---
Updated July 6, 2005
ARTWORKS FROM AROUND THE WORLD
Unique works of art for art collectors
DALI VISION: THE EYE OF WISDOM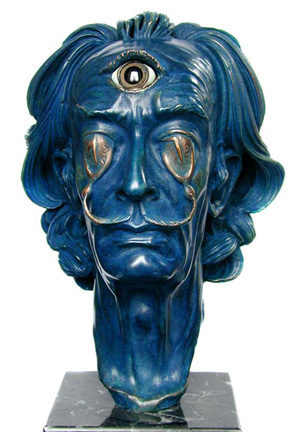 ©Photograph: Dali-Archive, Marco-VG.
DALI VISION: THE EYE OF WISDOM. It is one of the Dali-Morphosis (1975/1976), combining the work of Dalí's friend Arno Breker and applications by Salvador Dali. The portrait of the King of Surrealism shows the so called 'Third Eye' in the forehead. Dali changed the realistic eyes into the symbol of his "soft time".
Dali vision: The eye of wisdom
Orpheus and Eurydice. A relief in Ara-marble.
Widder, Head of Ram, Téte de Bélier for Alexander the Great, by B. John Zavrel
Fortuna, the Goddess of Fortune
Europa on the Bull by Ernst Fuchs
Jean Carzou and his lithograph Alexander the Great
Thorak's relief 'Hans Sachs' in bronze, by B. John Zavrel
Africa sculptures by the famous Arno Breker, by B. John Zavrel
Salvador Dalí as a Catalonian for collectors
Art Mishima: Lithographs by Arno Breker, by B. John Zavrel
Dali stamp a precious work for all philatelists
Gregor Kruk in the Ronald Reagan Collection
SALVADOR DALI stamp from Bulgaria
Richard Wagner Bust by Arno Breker as Coffee-table Sculpture
Dali's sculpture 'Lady with Drawers' in the Museum Collection
Dali's Horse in Museum Collection
Dali's "Birth of the New Man" in Museum Collection
Dali's Elephant in Museum Collection
Staff of Asclepius as work of art
Arno Breker Bas Relief: "The Avenger"
A Dali Morphosa of the Royal Dali Collection
GALA DALI - THE DIVINE, by Joe F. Bodenstein
© PROMETHEUS 97/2005
Keep informed - join our newsletter:
Copyright 2005 Museum of European Art
PROMETHEUS, Internet Bulletin for Art, News, Politics and Science.
Nr. 97, JULY 2005