Home | Alexander Order | Coats-of-Arms | Articles | Latest News |
---
Dali's Elephant in Museum Collection
Dali's sculptures on display--six small works of the great master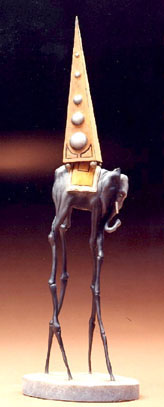 'Elephant with long legs', a sculpture from the Mouseion-Collection. This Elephant is to be seen also in Dali's painting "The Temptation of Saint Anthony", 1946.
Photo: Parastone/Dali-Archive
Brussels (bpb) Dali's sculptures from the Parastone-Mouseion-Collection are on display at the Museum of European Art at Nörvenich Castle near Cologne, Germany. These are small size sculptures, which can also be seen in some of the paintings by Dali. The most attractive Dali Elephant can be seen in his painting "The Temptation of Saint Anthony", 1946.
It shows Dali's nuclear mysticism in all its fierceness. A naked Antonius wards off a frightening, mounting horse with a sword; the horse, standing on legs as thin as gossamer, defies the laws of gravity. The Saint tries not to be seduced by the earthly temptations, symbolized by the horse as a symbol of power, followed by almost floating elephants, which carry on their backs symbols of lust and greed.
The painting "La tentation de Saint Antoine" belongs to the Royal Museum of Fine Arts, Brussels.
Height of the sculpture including marble stand: 29 centimetres.
The Museion-Collection includes five more sculptures: 'Dali-Lady with Drawers', 'Birth of the New Man', 'Dali-Horse', 'Portrait Pablo Picasso' and 'Soft Self-portrait of Dali with Fried Bacon'.
For more information about purchasing this work of art, please contact: museum@europaeische-kultur-stiftung.org.
Copyright 2003 West-Art, Prometheus 88/2003
Keep informed - join our newsletter:
Copyright 2003 West-Art

PROMETHEUS, Internet Bulletin for Art, Politics and Science.

Nr. 88, Summer 2003