---
Richard Wagner Bust by Arno Breker as Coffe-table Sculpture
Also busts of Franz Liszt and Johannes Brahms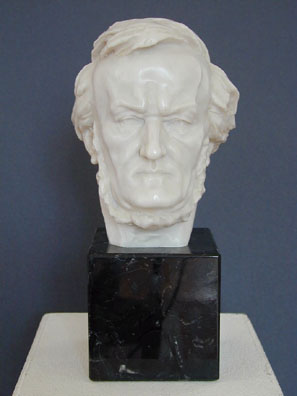 Richard Wagner. Portrait by Arno Breker.
Height with base 19.5 cm.
Foto Copyright: D.Lehmann/Marco VG, Bonn
Berlin (bpb) The bust of Richard Wagner by Arno Breker is now available as a coffe-table sculpture. The masterful work of the sculptor Breker (1900-1991) from Ara-Marmor is an Art-Edition of the Arno Breker Museums. The bust on a black marble base is 19.5 centimeters tall.
Arno Breker has created in total three different busts of Richard Wagner, which are considered internationally as the most important portraits of the composer. The monumental sculpture from Carrara marble, as well as a bronze portrait belong to the official collection of the city of Bayreuth. There can be found also large portrait busts of Cosima Wagner and Franz Liszt, which were commissioned by the city of Bayreuth.
To these were added portrait busts of Winifred Wagner and her son Siegfried Wagner, who stood model for the Master.
The small Wagner bust of the Breker Museum in Ara-marble in a numbered and signed edition of only 100 pieces. The noble work of art, which would be appropriate as a coffee-table sculpture, is also available in bronze in a limited edition. There are similar busts available as coffee-table scuptures of Franz Liszt and the composer Johannes Brahms, who died on May 7, 1933 in Hamburg (born April 3, 1897 in Vienna, Austria).
More information about the bust can be obtained from
museumn@europaeische-kultur-stiftung.org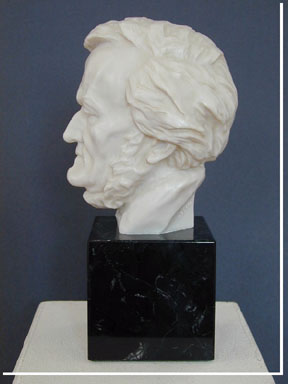 Arno Breker: Portrait of Richard Wagner. Ara-marble. Side view.
Foto Copyright: Detlef Lehmann/Marco VG, Bonn
Copyright 2003 West-Art, Prometheus 90/2003
Keep informed - join our newsletter:
Copyright 2003 West-Art
PROMETHEUS, Internet Bulletin for Art, Politics and Science.
Nr. 90 Winter 2003