Home | Alexander Order | Coats-of-Arms | Articles | Latest News | Art Gallery | Spiritual Corner
PROMETHEUS
Internet Bulletin for Arts, Politics and Science
Number 87 .................................... SPECIAL ISSUE
B. JOHN ZAVREL, Publisher
Thomas Zavrel, Guest Editor
PREVIOUS ISSUE .................. NEXT ISSUE
---
"We must build cathedrals of Peace, where the people are free".

Ronald Reagan.

PROMETHEUS FOR PEACE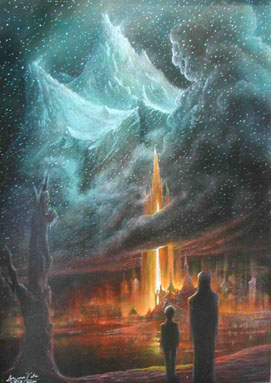 APOCALYPSE, by Ludwig Angerer the Elder
VOICES AGAINST THE WAR
Jordanian Queen Noor wishes Peace and Freedom for Iraq, by Joe F. Bodenstein
Jordanische Königin Noor wünscht Frieden und Freiheit für Irak, von Joe F. Bodenstein
Anti-war painting by Keith Haring in Berlin, by Joe F. Bodenstein
Anti-Kriegsbild von Keith Haring in Berlin, von Joe F. Bodenstein
The Erosion of the American Dream, by Gore Vidal
German Chancellor Schröder against the Irak War
Deutscher Bundeskanzler Schröder gegen Irak-Krieg
Pope John Paul II: War in Iraq a crime
IRAQ: BONANZA WORTH $ 2,800 BILLION, by B. John Zavrel
War is not the answer. Nuclear fusion power with Helium-3 is the answer. By Dr. Wilson Greatbatch, the inventor of the pacemaker.
Vice-President of the German Parliament Vollmer calls a war against Iraq a crime against our cultural heritage
Vollmer nennt einen Irak-Krieg ein Verbrechen an Kulturgütern
Irak and USA: "About the origin of time" in the Gallery Ruf. Warnings about destruction of cultural heritage by war. By Karl Weibl.
Irak und USA: Vom Ursprung der Zeit in der Galerie Ruf, von Karl Weibl
Patriotism and the Flag, by Bill Moyers
Former President George Bush Warns His Son, by Roland Watson (NY Times)
CALL FOR PEACE: Swami Veda, H.H. the Dalai Lama, H.H. the Pope John Paul II, Deepak Chopra, Mohandas Gandhi, Swami Vivekananda.
---
The Power of Ahimsa in Everyday Life, by Swami Veda
Politics: The Price of Freedom, by Consul B. John Zavrel
The Purpose of Mankind, the Goal of Culture and War, by Hermann Oberth
Arun Gandhi: The Pursuit of Truthfulness, by Consul B. John Zavrel
My Dream for Tibet's Fredom, by H.H. the Dalai Lama and Thubten Jigme Norbu
The Next Thousand Years, by B. John Zavrel
PROMETHEUS JOURNAL, 1983 - 2003
Articles from our archives on Peace, Freedom and Justice
Let Us Build Cathedrals of Peace, by Ronald Reagan
A PRAYER FOR AMERICA, by Hon. Dennis J. Kucinich (D-OH), U.S. Representative
Ruth Zucker--'Mata Hari 'of Israel Remembers. A book review by Consul B. John Zavrel
Gore Vidal Commentary, by Sunder Katwala (The Observer, Great Britain)
The United States of America has gone mad, by the best-selling author John Le Carré
THE Answer to 9-11-2001, by Swami Veda
A Russian Space Pioneer Chronicles the Life of Hermann Oberth, by Marsha Freeman
U.S. heading toward Big Brother society, report from American Civil Liberties Union
George Bush in Buffalo: A Great Future Is Ahead, By Consul B. John Zavrel
Tibet: Give Us Liberty, by Consul B. John Zavrel
Benes Decrees: A Threat to Peace in Europe, by Bernd Castell
Bill Clinton was celebrated in Berlin as a friend, by Joe F. Bodenstein
Meditation against Terrorism and Violence, by Swami Hari
The Troubling New Face of America, by Jimmy Carter
The Last Defender of the American Republic? An interview with Gore Vidal by Marc Cooper
Unifying Streams in Religion. A Talk by Swami Veda. By Consul B. John Zavrel
Primer For Those Who Would Govern, by Consul B. John Zavrel
Homage to Ronald Reagan at 91, by Consul B. John Zavrel
Gore Vidal: Perpetual War for Perpetual Peace, by B. John Zavrel
Expulsion of Germans , by Dr. Alfred de Zayas
How to overcome the cruelties of the past between Germans and Czechs, by Bernd Castell
What is the Purpose of Mankind ?, by Hermann Oberth
Perennial in the Millennium, by Swami Veda
I Planted Thorn Bushes--Will I Reap Lillies?, by B.John Zavrel
Keep informed - join our newsletter:
Copyright 2003 West-Art
PROMETHEUS, Internet Bulletin for Art, Politics and Science, Nr. 87, Special Issue 2003