---
Gerhard Marcks lithographs
Museum Europäische Kunst remembers the sculptor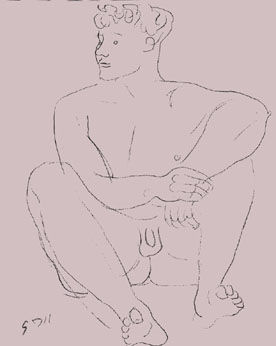 Greek shepherd boy. Lithograph by Gerhard Marcks.
© EKS, Marco-VG, Bonn
Berlin/Nörvenich (bpb) The European Art Foundation in Berlin showed in the spring of 2003 at the Museum Europäische Kunst at the Nörvenich Castle nea Köln a studio-exhibition with the lithographs of the sculptor Gerhard Marcks. The were published in 1979 by the Marco Edition Bonn-Paris, and appeared in the publication honoring the artist on his 90th birthday.
The president of the European Art Foundation, John G. Bodenstein said: "With this exhibition we attempt to prevent that a German sculptor of the classical tradition should be forgotten." The work of Marcks is unfortunately not so easy to be seen at exhibitions, definitely not as much as his life and work would deserve.
Gerhard Marcks was born on February 18, 1889 in Berlin. The last years of his life he spent in a rented atelier-house in the suburbs of Köln. He died on November 12, 1981 in Burgbrohl.
The special publication contains his hand-written Manifesto 90. Marcks writes about himself:
"I am a Berliner, that's who I am and will always remain so. I do not like the Berlin of today, but the Old Berlin has always had something of a capital.
The Prussian is not usually an artist, rather an organizer, a soldier. But due to the French impact, arts came to Berlin. Therefore I could live in Berlin."
The special publication contains contributions of well-known politicians of the German Federal Republic in 1979: Annemarie Renger, Walter Scheel, Karl Carstens, Helmut Schmidt, Hans-Dietrich Genscher, Helmut Kohl and Johannes Rau.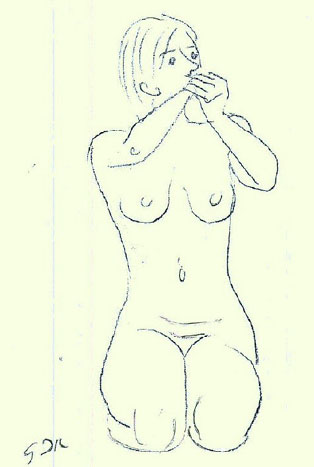 Kneeling girl.Lithograph by Gerhard Marcks
© EKS, Marco-VG, Bonn
The art historian Volker G. Probst wrote in the special publication this:
"In his written thoughts, in his sculptural work and in personal talks, Marcks always finds the proper container for that which he wants to express. His life, which he lived in a serious and determined manner, throught his contemplative understanding of the creation, resulted in a body of work of great multiplicity and inner consistency.
Gerhard Marcks achived that which only few have achieved: ideas and reality, imagination and handwork unite to present a convincing unity of his life and work."
Special publication Gerhard Marcks on the 90th Birthday in 1979.
7 Lithographs, eingebunden. Two photographs, size 33 x 25 centimeters, heavy paper. One lithograph-poster, printed at the Fernand Mourlot/Art-Litho, Paris.
More information: museum@europaeische-kultur-stiftung.org.
Copyright 2003 West-Art, Prometheus 90/2004
Keep informed - join our newsletter:
Copyright 2003 West-Art
PROMETHEUS, Internet Bulletin for Art, Politics and Science.
Nr. 90, Winter 2004