Home | Alexander Order | Latest News | Prometheus For Peace
---
Elvis Presley liked it soft and sweet
A breakfast creation by Elvis in Germany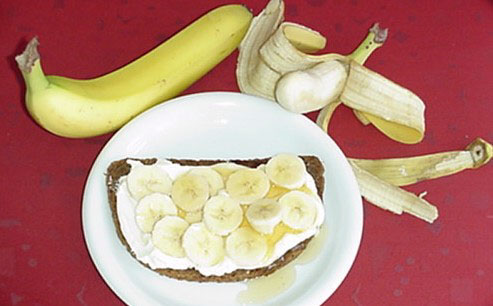 'Elvis Sandwich': soft cream cheese, bananas and honey on dark-brown rye bread. A tasty breakfast creation by Elvis in 1959.
Photo Copyright: Presley-Archive EKS/Maco-VG
Frankfurt/Germany (bpb) Elvis Presley arrived as a US soldier in the town of Friedberg, north of Frankfurt/Main in October 1958. He was 23, made friends with the German Joseph, one year younger than him. Elvis called him Joe. The following report is an excerpt from the unpublished book "Summertime with Elvis". Marco Publishers in Bonn hold the copyright.
Breakfast with Elvis
On a sunny summer morning we had breakfast in a cozy country inn in the Spessart Forrest. We were the only guests in this little inn, run by a friendly married couple. This lonely region sheltered Elvis and me from public attention. The farmers seemed not to know Elvis as a singer at all.
"What would you like to eat", asked the innkeeper named Anna, about 50 years old. I answered: "Whatever you have."
Anna smiled and said, "I will bring some special things for you young guys". Than she served us: home-made smoked ham, fresh eggs from her little farm, dark rye bread, home-made white cream cheese and golden honey from their own bees. "The bread goes well with the ham", Anna said.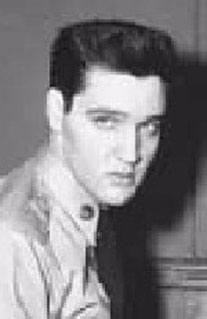 Portrait of Elvis Presley, 1959 in Germany: "Milk makes you sexy".
Photo copyright: Army-Archive / Marco-VG
Elvis looked at it and said to me: "I like soft and sweet things for breakfast".
Instead of butter and ham he spread the home-made fresh and soft white cream cheese on the dark rye bread. Than he ran to our car, and brought back two bananas. Elvis liked ripe bananas since childhood. He brought them along on our tours, since in the places in the countryside there were no bananas available to buy.
Having returned to the table, he decorated the rye bread with cream cheese with slices of bananas. On the top he trickled some honey, which had a wonderful flavor. The honey was collected in the forest nearby.
We ate this new Elvis creation of a breakfast sandwich with warm milk. It was a funny taste for me, since I was used to eat this kind of bread only with salty things.
Elvis enjoyed the 'cream cheese-banana-honey sandwich'. He winked with his right eye at me, and joked: "Go ahead, drink milk--milk makes you sexy."
(You can order the full recipe for the "Elvis Sandwich' by writing to: marco-vg@gmx.de )
Copyright 2003 West-Art, Prometheus 88/2003
PROMETHEUS, Internet Bulletin for Art, Politics and Science, Nr. 88, Summer 2003
Keep informed - join our newsletter: