---
Quotations from Konrad Adenauer to Winifred Wagner
Quotations by Dali, Dietrich, Goldman, Fini, Kahnweiler, Nurejew, Beuys and more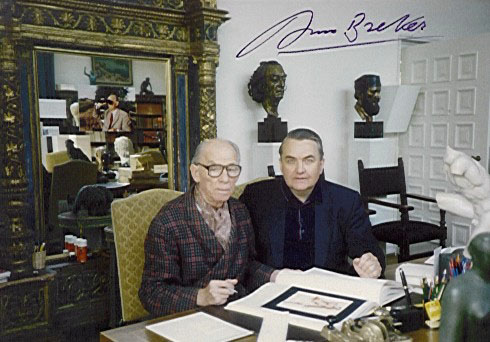 The publisher Joe F. Bodenstein, shown with the sculptor Arno Breker, has collected quotations from various contemporaries. In the background, Breker's bronze portrait-busts of Salvador Dali and Ernst Fuchs. Both artist friends personally stood model for the sculptor.
Foto Copyright: Marco Bodenstein, Marco-VG,Bonn
Paris (bpb) The following is an exclusive collection of quotations--sentences, words and thoughts--which Joe F. Bodenstein collected over several decades during conversations with these persons. The copyright to these quotations is exclusively with Marco-VG, 53115 Bonn, Händelstr. 12. Republication of these quotations only with written permission from: info@europaeische-kultur-stiftung.org
Quotations
Adenauer Konrad, German Chancellor, Bonn 1967:"If you want to tame a politician, embarrass him in public."
Arentz Kurt, Sculptor, 1989: "Fish makes sexy"
Baker Josephine, World star, 1970 Munich: "In 1920's in Paris, all of us were in love with Arnold (Arno Breker), both men and women."
Beuys Joseph, 1976: "Already as a soldier I found the figures of Arno Breker impressive. The work of the master will survive all hostility, envy and jealousy."
Breker Arno, 1990: "My life was work, blood and tears."
Chagall Marc, Paris 1971: "I have never changed my painting style and had the good fortune to have found so many followers."
Dalai Lama, 1968: "We can only then shape the world for the good, if we ourselves carry goodness within us."
Dali Gala, 1976: "Young men are like juicy steaks. The more one eats them, the better they taste."
Dali Salvador, 1975: "God is beauty and Arno Breker is his Prophet."
Dietrich Marlene, Movie star, Paris 1972: "In Hollywood I have dremed of those men that Arno Breker captured in his sculptures."
Eggert Martha, Singer USA/Czechoslovakia, and wife of actor Jean Kiepura, 1968, Bonn: "I sing also for the devil, if I can turn him around."
Erhard Ludwig, German Chancellor, Bonn 1964: "It is better to be sculpted by Arno Breker, than to be painted by life."
Ernst Max, Brühl 1971: "It is better to be finally able to overcome oneself, and at least at old age deal with old enemies and opponent in the spirit of reconciliation. It can prolong one's life."
Felipe, Prince of Asturias, Spanish Crown Prince, 1991: "A life in duty is better than a life in boredom."
Fini Leonor, Malerin, Paris 1976: "Who tortures a beloved being, should strongly watch out to make sure it does not stop breathing."
Fuchs Ernst, 1975: "Arno Breker is really the Prophet of the Beautiful."
Gellender William, Dali's publisher,Paris 1972: "Salvador Dali himself firmly believes the illusion, which others have made out of him."
Ghandi Indira, Prime Minister of India, 1970 New Delhi: "In order to be able to rule people, they need to have illusions and dreams."
Goldman Nahum, President of the Jewish World Congress, 1976 Paris: "In my art collection I have a picture which reminds me of two treasured personalities. Konrad Adenauer and Arno Breker, who painted it.
Hartog Ari, Gerhard-Marcks-Haus Museum in Bremen, 2002: "If we were to proclaim Lehmbruck as ripe to be shown in museums, but not Breker, we would be ridiculous."
Heinemann Uta-Ranke, Theologian, Bonn 1971: "Arno Breker has helped in the Nazi times people who were in peril, while others were singing "When a knife lets the Jewish blood spurt ..."
Jünger Ernst, 1996: "Hope brings us farther than fear."
Kahnweiler, Daniel-Henry, Picasso's art dealer: "They say that for an art dealer, the best artists are dead artists."
Lifar Serge, Ballet dancer, 1973 Paris: "Picasso loved ballet dancers not from homo-eroticism, but because he had in him the longing to be as slim, tall and graceful as a theater star."
Lübke Wilhelmine, First-Lady, Bonn 1968: "A man should be thankful to his old wife that she protects him from stupid actions, which which would rob him of his time and money."
Marais Jean, Actor, Paris 1974: "Jealousy burns up love in a devouring, flaming inferno.
Marcks Gerhard, Köln 1972: "If one thinks every day about death, then every stranger will seem like a friends, and every worry will disappear."
Moore Henry, Bonn 1979: "When one is famous, he receives invitations which he no longer needs."
Moore Peter, Dali's manager, Paris 1976: "Unthankfullness is a characteristic of many successful people."
Mourlot Fernand, Paris 1979: "A long life teaches us to get along with the powerful, in order to live."
Nehru Jawaharlal, Prime Minister of India, 1962: "One can rule the new India only if one has the heart of a Mahatma Gandhi, and the willpower of the British."
Nurejew Alexander, Ballet star , Paris 1977: "When a dancer loses his lasciviousness, he can end his carreer. Just like a car--it also will not run without gas."
Pappritz Erica, Chief of Protocol for Adenauer, Bonn 1969: "Let everyone blame themselves, as they can."
Peyrefitte Roger, Writer, Paris 1972: "I agree with Cocteau: I love love, and hate hatred."
Presley Elvis, 1958: "What I do not like at all is when people call me a sex-machine. I only hope, that my mother does not hear it. That would hurt me."
Queen Elizabeth, 1965: "Tea tastes best, if made with water from England. Therefore, I bring it along on my travels. I can afford this luxury without being criticized."
Rubinstein Mala, Cosmetics empire, Bonn 1973: "If wealthy men paid more attention to how they look, it would be easier for women to put up with these money bags."
Schindler Emilie, who saved many Jews in the Nazi times, Berlin 2001: "A good conscience is worth more than a medal for philantropy."
Soder Edwige, Art collector, 1972: "Most rich people collect art for the big names, but with Picasso, Breker, Dali, Maillol, and Derain I collect quality.
Speer Albert, Architect, 1979: "Great visions do not die. They merely disappear, in order to reappear one day again."
Ustinov Peter, Hollywood Star, Köln 1992: "Physicians are better than vampires. They do not want our blood, only our money."
Vasarely Victor, Paris 1977: "I do not always think in squares and points--that would make one crazy."
Wagner Winifred, 1975: "Should all those people, who today say that they were in the resistance against Adolf Hitler, go to heaven, then I will be content with hell and purgatory."
Zavrel B. John, Art patron, USA, 1985: "Only if we support the artists of the present, can we secure our culture for the future."
Copyright 2003 West-Art, Prometheus 88/2003
Keep informed - join our newsletter:
Copyright 2003 West-Art
PROMETHEUS, Internet Bulletin for Art, Politics and Science.
Nr. 88, Summer 2003