---
Dali at ARTCURIAL in Paris
Peter Moore auctioned off paintings and sculptures from the Dali Collection
By Joe F. Bodenstein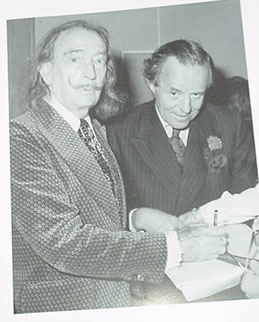 A photo from the days of friendship: Salvador Dali and Captain Peter Moore.
Photo: Katalog/Dali-Archiv
Paris (bpb) The leading house of art ARTCURIAL in Paris held an auction on June 30 and July 1, 2003 of paintings, drawings, sculptures and art objects from the Salvador Dali Collection of Peter Moore. The works came from the former Dali Museum, which Moore established with his wife Catherine Perrot as the first one of this kind in Spain. The Englishman Captain Peter Moore was the longest secretary, advisor and friend of Dali. Now, at a high age, he wanted that his collection should get into the hands of collectors all over the world.
Artcurial has published a comprehensive catalog (www.artcurial.com). On the title page is a tender self-portrait of Dali from 1943. It is offered in the catalog as starting at 35,000 Euros (about $ 36,000 US $).
Apparently, the auction worth many millions of dollars has led to the reconcilliation of the two Dali experts, Moore and Robert Descharnes. The one-time photographer of Dali and his last secretary wrote the Foreword to the catalog. In addition, Descharnes made out the certificates for the works of art. After the death of Dali in 1989, Descharnes acted as the sole possessor of the rights to the works of the surrealists. But these were taken away from him by the Spanish state authorities through court actions and decrees. The quarrell continues.
On the other side, Peter Moore, who once as the closest confidante of Dali influenced to a great degree his successes as graphic artist and designer, was accused of improprieties by the new administration of the Dali inheritance. Police actions, house searches and temporary closing of the Dali Museum of Perrot-Moore contributed to making international damage to the reputation of the British friend of Dali. So today, both Moore as well as Descharnes see themselves as victims of the actions of the Salvador Dali Foundation, which Moore has helped significantly to establish, just like the in the meantime famous Dali Museum in Figueras.
The experienced Dali experts Moore and Descharnes cooperated closely on the auction. That way they made it possible to bring many up to now hardly known works of Dali to the people.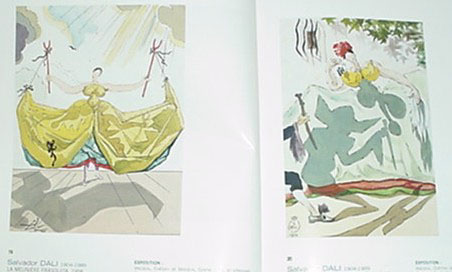 Watercolors from the years 1958 anbd 1959, which are shown in the catalog. The were originally used as illustrations for "Le Tricorne".
Photo: Katalog/Dali-Archiv
Copyright 2003 West-Art, Prometheus 88/2003
Keep informed - join our newsletter:
Copyright 2003 West-Art
PROMETHEUS, Internet Bulletin for Art, Politics and Science.
Nr. 88, Summer 2003