---
Prince Felipe, Salvador Dali and Soft Watch
Dali 2004 and celebration of his 100 birthday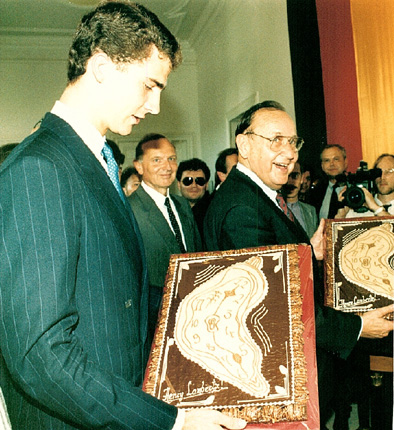 H.R.H. Prince Felipe with SOFT WATCH of Salvador Dali, made out of sugar and marzipan. Hans-Dietrich Genscher, Minister of Foreign Affairs in the time of German Chancellors Helmut Schmidt and Helmut Kohl, is assisting the heir of Spain at Noervenich Castle.
Copyright: Photo Marco Bodenstein/Dali-Archive EKS
Madrid/Berlin/New York (bpb) The year 2004 is the DALI-YEAR. Museums and organizations celebrate internationally the 100th birthday of the artist. King Juan Carlos of Spain has proclaimed the Dali-Year. He and his wife Queen Sophia are the patrons of the Dali-Year and the celebrations in honor of the famous painter.
H.R.H. Prince Felipe is a great admirer of Dali. The photograph shows the Prince at the opening the exhibition of The Royal Dali Collection at Noervenich Castle in Germany. On this occasion, in the presence of Foreign Minister Hans-Dietrich Genscher the Prince became a Honorary member of the Order Alexander the Great for Art and Science. His great-grandparents, the late King Paul I of the Hellenes and Queen Frederica were in their time the patrons of this international order. By the courtesy of the Dali-Archive EKS, the Bulletin Prometheus is able to publish this photograph for the first time and exclusively in the internet.
Copyright 2003 West-Art, Prometheus 90/2004
Keep informed - join our newsletter:
Copyright 2003 West-Art
PROMETHEUS, Internet Bulletin for Art, Politics and Science.
Nr. 90, Winter 2004