---
Alexander Order congratulates Prince Felipe and his Bride
The heir to the throne will marry in 2004 in Madrid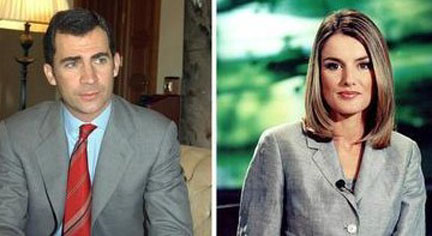 Crown Prince Felipe and his bride Letizia Ortiz
Copyright Photopress, Madrid
Madrid/New York (bpb) The Spanish Crown Prince Felipe (35) will marry in the summer of 2004 the TV journalist Letizia Ortiz (31), according to an announcement by the Spanish royal house. After the announcement of the engagement in November, 2003 the International Alexander Order for Art and Science has congratulated the Prince on this decision. Felipe, the Prince of Asturias, is an Honorary Member of the Order.
The Chancellor of the Order, Consul B. John Zavrel announced in New York: "We wish His Royal Highness and Lady Letizia Ortiz a happy future and a successful engagement on the behalf of Spain and Europe." Zavrel recalled that Prince Felipe studied International Relations at the Georgetown University in Washington. His interest in global issues and in the USA should be helpful to him in the fullfilment of his future duties.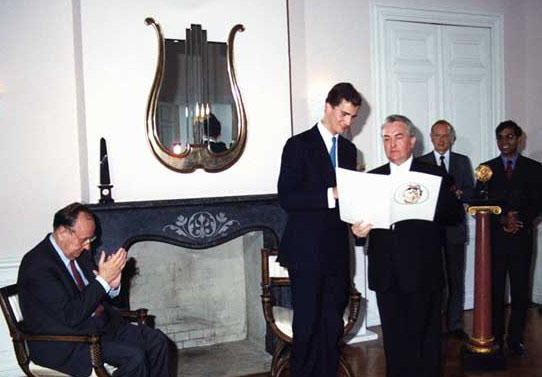 Prince Felipe (center), accepting of the Honorary document of the Alexander Order in 1991 at the Noervenich Castle. The German Foreign Minister Hans-Dietrich Genscher (left in photo, seated) applauded the conferring of the honor.
Foto: EKS-Archive/Marco-VG
During his first official visit to Germany in 1991 on the invitation of the German government, Felipe was named Honorary Member of the International Alexander Order for Art and Science. This institution, which is engaged to benefit the society, was for a long time under the patronage of King Paul I. of the Hellenes (1947-1964) and Queen Friederike (1917-1981), who were the Prince's grandparents on his mother's side.
Prince Felipe is the youngest child of King Juan Carlos and Queen Sofia. He is the only male descendant. Both his older sisters, Princess Elena and Princess Cristina are already married. Both have married commoners. The first-born Princess Elena has two children, and her younger sister Cristina three.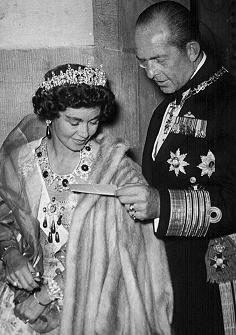 Queen Friederike and King Paul I. of the Hellenes in Athens.
Photograph Copyright EKS-Archive/Marco-VG
Copyright 2003 West-Art, Prometheus 90/2003
Keep informed - join our newsletter:
Copyright 2003 West-Art
PROMETHEUS, Internet Bulletin for Art, Politics and Science.
Nr. 90 Winter 2003