---
Elvis Presley: Holiday Greetings for Christmas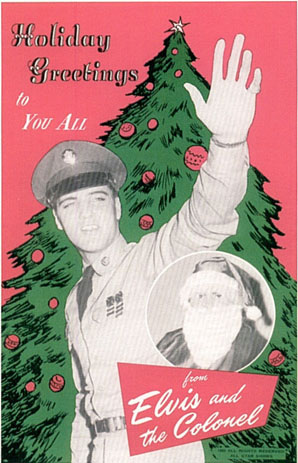 Elvis Presley mailed this Holiday Greetings card for Christmas from Germany in 1958.
Foto: Presley-Archive/Private Collection,Marco-VG
Berlin/New York (bpb) Christmas greetings from Elvis Presley are always of interest. This first greeting card from Europe was sent by the musician from Germany in 1958 for Christmas. Presley, in his new uniform, waves to all his fans in the whole world.
The Santa Claus in the round inset is Colonel Parker, the long-time, strict manager of the world star. He put on Santa's clothes and this way signalled from the colorful card that he belongs to Elvis also during his military service.
The soldier Elvis Presley had reported for duty on March 24, 1958 at 6:35 a.m. He received the number 53-310-761.
One day later the handsome Elvis got a military haircut. With the short haircut like a brush, he looked younger and even more desirable.
Copyright 2003 West-Art, Prometheus 90/2003
Keep informed - join our newsletter:
Copyright 2003 West-Art
PROMETHEUS, Internet Bulletin for Art, Politics and Science.
Nr. 90 Winter 2003