---
Dali Tarot first Edition on his 100th birthday
78 small works of art by the "Divine Dali"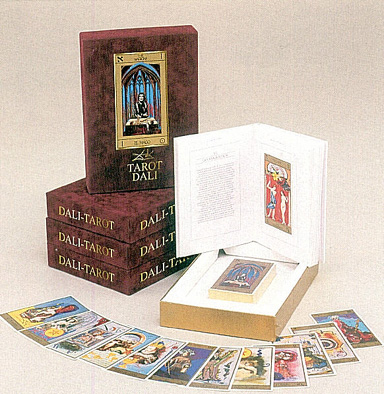 Dali Tarot is delivered in a precious set. The exclusive edition is published on the occasion of the Dali centenary in 2004.
Copyright Foundation Salvador Dali-Gala/Koenigsfurt
Berlin/Madrid/New York (bpb) Salvador Dali has created this unique set of Tarot Cards. The set is published on the occasion of the 100th birthday of Dali in 2004. This first Edition includes 78 cards with motives of the master, plus a fine art book by the German author Johannes Fiebig. He is an internationally acknowledged expert on Tarot. Fiebig cooperated with an art historian, in order to interpret the Dali motives. He worked together with Dr. Anette Königer-Kaufmann. She is the director of the German Museum of Playing Cards with collections of ancient cards and extraordinary new editions. The museum is located in Leinfelden-Echterdingen near Stuttgart in Southern Germany.
The European Art Foundation in Berlin has already accepted a set of Dali-Tarot Cards of this first Edition into its Dali Collection. Another examplaire belongs to the Dali Archives EKS. The Tarot Cards and book will be on display at the exhibition "Salvador Dali 100 Years" in the Museum of European Art at Noervenich Castle near Cologne, Germany.
Consul B. John Zavrel, director of the US Museum of European Art in Clarence, New York, said about the first edition of this Tarot: "It is not only a great and valuable set of playing cards. It is much more. These 78 cards are actually miniatures of masterpieces by Salvador Dali. The buyers of this Tarot can daily enjoy these works of art. The compositions are really fascinating."
People who do not want to play cards, but just wish to own this unique set as a collectible, could frame all the 78 cards. These representative Dali pictures will be a nice souvenir to remember Dali, the King of Surrealism of the 20th century.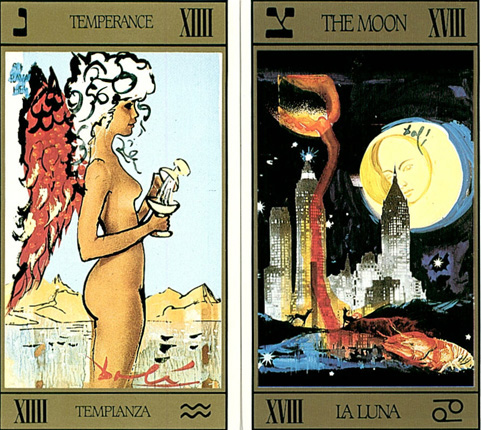 Two themes from the Dali Tarot: 'Temperance' and 'The Moon'. An angel with wine and the bright shining moon over a large city. Dali's lobster is resting in the lower right corner. Many other themes are on the 78 cards: the lucky elephant, soft watch, secrets and mystery.
Copyright/Foto: Foundation Salvador-Gala Dali / Marco
The set includes the Tarot and the illustrated book with the format of 22x15 cm.
Book and cards and presented in a decorative portfolio. Size 26x19 cm. Each exemplar of the first edition includes a certificate of authenticity.
If you like to order the Tarot or you have more questions, contact (in USA) zavrel@meaus.com or (all other countries) info@europaeische-kultur-stiftung.org
Copyright 2003 West-Art, Prometheus 90/2004
Keep informed - join our newsletter:
Copyright 2003 West-Art
PROMETHEUS, Internet Bulletin for Art, Politics and Science.
Nr. 90, Winter 2004