---
Dali Angel with best wishes for 2004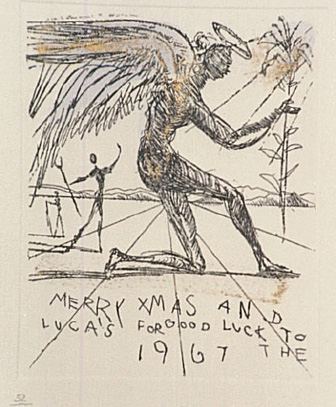 © Photo Dali-Archive/Phyllis Lucas
The 'Angel with the Lily' by Salvador Dali greets the New Year 2004. This graphic work in an exhibition at the Museum of European Art was made after an original drawing by Dali. It was used for a Xmas card in 1967.
One Edition has the dedication to Phyllis Lucas (OPC/EGI). An additional edition on different kinds of paper was published without this dedication (WGP, Rigal/Paris). The lily was one of Salvador Dali's favorite flowers. It played also a part for the perfumes of Dali. The motive 'Angel with the Lily' has not lost any of its beauty, and greets all our readers with the best wishes for 2004.
Copyright 2003 West-Art, Prometheus 90/2004
Keep informed - join our newsletter:
Copyright 2003 West-Art
PROMETHEUS, Internet Bulletin for Art, Politics and Science.
Nr. 90, Winter 2004