---
Shocking revelations about Rumsfeld on 9/11/2001
Former White House terrorism advisor: Bush Aministration was discussing bombing Iraq for 9/11 despite knowing Al Quaeda was to blame.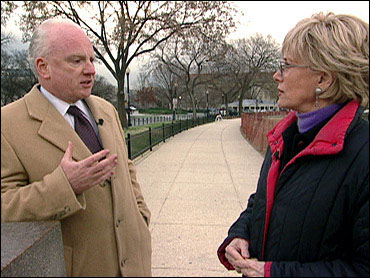 Richard Clarke, the former White House terrorism advisor, reveals the truth about Donald Rumsfeld on 9/11.
Former White House terrorism advisor Richard Clarke tells Lesley Stahl that on September 11, 2001 and the day after--when it was clear Al Qaeda had carried out the terrorist attacks--the Bush administration was considering bombing Iraq in retaliation. Clarke's exclusive interview will be broadcast on 60 MINUTES on Sunday, March 21, 2004 on the CBS Television Network.
Clarke was surprised that the attention of administration officials was turning toward Iraq when he expected the focus to be on Al Qaeda and Osama bin Laden. "They were talking about Iraq on 9/11. They were talking about it on 9/12," says Clarke.
The top counter-terrorism advisor, Clarke was briefing the highest government officials, including President Bush and Secretary of Defense Donald Rumsfeld, in the aftermath of 9/11. "Rumsfeld was saying we needed to bomb Iraq....We all said, 'but no, no. Al Qaeda is in Afghanistan," recounts Clarke, "and Rumsfeld said, 'There aren't any good targets in Afghanistan and there are lots of good targets in Iraq.' I said, 'Well, there are lots of good targets in lots of places, but Iraq had nothing to do with [the 9/11 attacks],'" he tells Stahl.
Clarke goes on to explain what he believes was the reason for the focus on Iraq. "I think they wanted to believe that there was a connection [between Iraq and Al Qaeda] but the CIA was sitting there, the FBI was sitting there, I was sitting there, saying, 'We've looked at this issue for years. For years we've looked and there's just no connection,'" says Clarke.
Clarke, who advised four presidents, reveals more about the current administration's reaction to terrorism in his new book, "Against All Enemies."
Friday, March 19, 2004
Copyright 2004 West-Art, Prometheus 91/2004
Keep informed - join our newsletter:
Copyright 2003 West-Art
PROMETHEUS, Internet Bulletin for Art, Politics and Science.
Nr. 91, Spring 2004