---
Bulgarian Icons in an Art Museum Near Niagara Falls
Painter Violeta Trajanova Spasova
Marko Markov, PhD.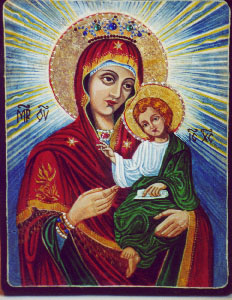 Madonna with Child.The Bulgarian painter Violeta Trajanova paints her icons on wood, inspired by original icons found in the churches in Bulgaria. Recurring themes and Madonna with Child, the Holy Trinity, Mary, Jesus, and representations of various saints of the Church.
It is very unlikely that any reader of this newspaper has not heard about the world-famous Niagara Falls. Most of you know that this wonderful natural phenomenon is located near Buffalo, New York. I don't know why, but in my mind, the image of Buffalo was that of an industrial center.
When I moved to this area, I found out that now, at the beginning of the 21st century, the town of Amherst, a satellite of Buffalo, has been named the safest town in the USA for three years in a row. I am absolutely convinced that not too many people in Bulgaria or elsewhere have heard about its neighboring town of Clarence, even though this small town has a long history. It is also the home of the inventor Wilson Greatbatch, whose invention of the heart pacemaker saved and extended the lives of millions of people around the world.
I am going to tell you about the Museum of European Art, located in Clarence. I should admit that my family was attracted by the name of the museum: European Art. I was surprised to find that the director of the Museum has a Czech accent. When I asked him if my guess was correct, smiling he confirmed my intuition. Then he asked me about my accent. When he learned that I am from Bulgaria, he brought us to one corner of the exposition, telling me that there are masterpieces of a Bulgarian artist there. And really, one fantastic selection of about 15 icons immediately showed that the author is our co-patriot. It happened that the artist is unknown to me &endash; Violeta Trajanova Spasova.
My wonderful host even gave me a short, half a page biography of Violeta. After years of designing jewelry, Violeta turned to the art of icon. Her icons are incorporated in the altars of the churches "Sveta Troiza" in Bozurishte, "Sveta Nedelja" in Opizvet, and in the village of Chavdar together with wood-artist Koitcho Koitchev Violeta designed the entire altar for the church "Sveti Georgi."
Within this small exhibition I discovered icons of "St. Ilia", "St. Paraskeva", "St. Mina", "St. Marina". Can an exhibition of icon bypass "St. Dimitur" and "Sv. Troiza"? There are not forgotten the brothers who crated Cyrillic alphabet and taught generations reading and writing. Some of the icons are made in a classical icon-making style, but some grab you with their novelty. For example, the icon of Jesus Christ is done in a very original manner: instead the typical golden background, the space behind the head of Christ is blue. I can only guess if this blue symbolizes the sky penetrated by golden rays that originate from his head. His robe is also unusual- red/blue.
Next is another icon: of Father and Son. While the young man is surrounded by a circular aura, the Father is written on a triangular background. Both are holding an open book. On the Father's side you may read "I am Lord, your God", while the Son's page says "I and Father are one".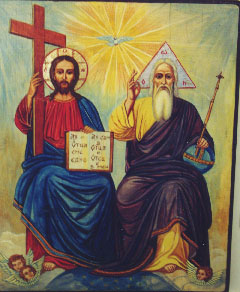 The Holy Trinity
One may stay for hours inside this small, but very pleasant museum, being involved in conversations with the founder of museum, Consul John Zavrel. It is very pleasant to see next to Spanish, German, Russian, and French masterpieces this small Bulgarian corner.
When on December 19, 2002 the icons of Violeta Trajanova were first exhibited in the Museum, they were twice as many as now, since some of them are now in private collections.
However, still the collection of this Center of European Art maintains the beauty of the Bulgarian art, side by side with the works of art by Salvador Dali, Arno Breker, Jan Cocteau, Ernst Fuchs, Kurt Arentz, Marc Chagall and other significant European artists of the 20th century.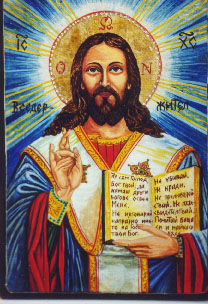 Jesus Christ
The Museum has a very interesting web site (http://www.meaus.com), which was visited by 240,000 visitors from all over the world in 2003. Museum of European Art, 10545 Main Street, Clarence, New York 14031 (USA). For more information, contact the director, Consul John Zavrel at zavrel@meaus.com
First published in the Bulgarian weekly newspaper "NEDELNIK", the 18-24 January, 2004 issue.
Copyright 2004 West-Art, Prometheus 91/2004
Keep informed - join our newsletter:
Copyright 2003 West-Art
PROMETHEUS, Internet Bulletin for Art, Politics and Science.
Nr. 91, Spring 2004