---
Cindy Sheehan: Pieta 2005
Mother calls for impeachment of Bush--hundreds of people descending on his Texas ranch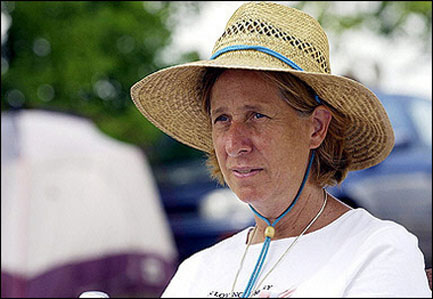 Cindy Sheehan: as rage has replaced the deep grief over the death of her son in Iraq, the courageous mother is challenging the Neocons' wars on Iraq and Afghanistan, and, like the naive boy in the fairytale by Hans Christian Andreson, blurbs out what no one dares to say: "The Emperor is Naked".
Crawford/Texas (meaus) Cindy Sheehan, whose son Casey was killed in Iraq, is calling for Bush's "impeachment," and for Israel to get out of Palestine.
"You get America out of Iraq and Israel out of Palestine and you'll stop the terrorism," Sheehan declares.
Sheehan, who is asking for a meeting with President Bush, says defiantly: "My son was killed in 2004. I am not paying my taxes for 2004. You killed my son, George Bush, and I don't owe you a penny ... you give my son back and I'll pay my taxes. Come after me (for back taxes) and we'll put this war on trial."
The 48-year-old California mom remains tented up in a ditch along the one-lane road that leads to Bush's Texas ranch. As her protest entered its second week, hundreds of people with conflicting opinions about the war in Iraq descended on the area.
"And now I'm going to use another 'I' word--impeachment--because we cannot have these people pardoned. They need to be tried on war crimes and go to jail", says the grieving mother.
As her protest enters the third week, there is no chance that the issues she has raised will go away. The taboo has been broken, and a nationwide discussion of why and how the Neocons got the United States into this war is long overdue, as more and more Americans are getting killed and wounded, and the ecomony, under the burden of more than $ 700 billion dollars spent of the war so far, is heading into an inevitable inflation.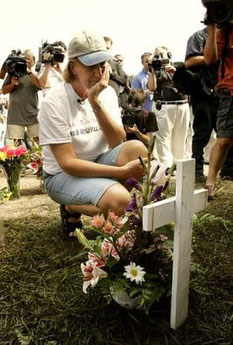 Cindy Sheehan, the grieving mother by the roadside to the ranch of George W. Bush in Crawford, Texas. After two weeks of her vigil, hundreds of people have descended on the town to support her lonely voice.
© PROMETHEUS 98/2005
Keep informed - join our newsletter:
Copyright 2005 Museum of European Art
PROMETHEUS, Internet Bulletin for Art, News, Politics and Science.
Nr. 98, AUGUST 2005