Home | Alexander Order | Articles | Latest News | Art Gallery
---
Art Collectors: Picasso or Arno Breker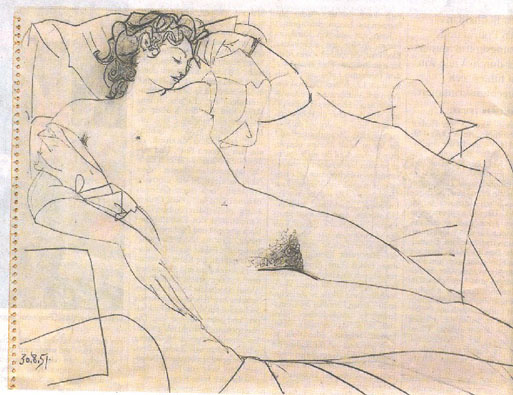 Pablo Picasso: "Odalisque". The painter made this pencil drawing on August 30, 1951. The Sleeping Beauty is Geneviève Laporte, a French resistance fighter against Germany.
This small drawing is offered for sale on the art market for 180,000 Euros (over $ 216,000). The international collectors have the choice: to buy this flammable and perishable drawing, or a fine life-size bronze sculpture by Arno Breker, the leading sculptor the classical tradition in Europe in the 20th century.
Photograph: Art curial, Paris
Paris/Frankfurt/Berlin (bpb) The art market in USA, Europe and Japan is still trying to make big money with popular names. The German newspaper Frankfurter Allgemeine Zeitung (FAZ) recently reported that certain pencil drawings of Pablo Picasso are on sale in Paris. The small works on sketchbook paper are offered for 80,000 to 180,000 Euros each ($ 96,000 to $ 216,000).
The international art collectors of our days have the choice: to buy a small Picasso drawing on paper, or to acquire for the same price one of the fine bronzes by Arno Breker, the leading European sculptor of the classical tradition in the 20th century in Europe. Breker is listed with Auguste Rodin, Aristide Mailoll and Charles Despiau. Breker's relations to Picasso and his Jewish art dealer Daniel Henry Kahnweiler in the 1940s were: Arno Breker saved Pablo Picasso--the painter who financially supported the communist movement in Paris during the German occupation--from being arrested and sent off to a certain death in a concentration camp.
Museums in USA and Japan have not yet discovered Breker's outstanding work for their public collections. Private collectors on the east and west coasts enjoy his art. For instance, the Philadelphia Museum in USA for has bronzes by Mailoll and the German Gerhard Marcks as well sculptures from antiquity, but as yet no work by Breker (www.museum-arno-breker.org). It is the same case with the Paul Getty Museum, the Smithsonian Institute in Washington and others. The famous European collector and founder of several art museums, Prof. Dr. Peter Ludwig, was well acquianted with Arno Breker, and bought a number of works personally from him. The same did Heinrich Thyssen-Bornemisza, from the German steel and iron dynasty Thyssen.
The FAZ reported recently "Kunst-Poker in Bonn: Spekulationen um die Sammlung Grothe" and transactions involving sending modern German art to USA. The collectors Sylvia and Ulrich Ströher (Wella-Erben Darmstadt) are quoted. Good advice for experienced and new collectors is: do not chase after artworks which have already became too expensive to make any profit in the future. Take your chance in classical art of the last century. It is a fascinating art, and of eternal value.
© PROMETHEUS 97/2005
Keep informed - join our newsletter:
Copyright 2005 Museum of European Art

PROMETHEUS, Internet Bulletin for Art, News, Politics and Science.

Nr. 97, JULY 2005