---
Ceramic plate METROPOLIS by Elvira Bach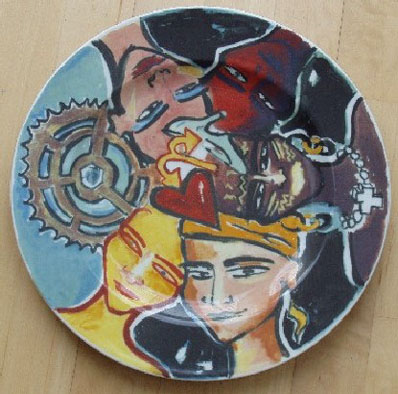 "Metropolis" is the title of this representative ceramic plate by the German artist Elvira Bach. One exemplaire of the limited edition artwork is in the collections of the European Art Foundation, the Museum of European Art abd ub the Art Museum of the Nörvenich Castle near Cologne, Germany.
Foto: Bach-Archiv/Marco
Berlin (bpb) Elvira Bach has created the ceramic plate with the title Metropolis, which has appeared in a limited edition on the occasion of the new century. The lady artist has become well-known especially for her mostly surrealistic depictions of women. She belong to the group of artists known as 'The Young Wild Ones'. Today, she is their most successful representative.
For the creation of the plate she selected five portraits of women. At the same time, they also symbolize the five continents of the Earth. Elvira Bach had turned her attention to ceramics years ago. She painted mainly vases, of all kinds of shapes. In this way, on several of her trips to Africa, she created several extensive series of unique vases, using the local art of making ceramics.
In Germany, Elvira Bach prefers to use the fine porcelain of the leading manufacturers. The plate was dated and signed by the artist in the year 2000. Several exemplairs are still available. Interested collectors can contact Museum@europaeische-kulur-stiftung.org , or in USA zavrel@meaus.com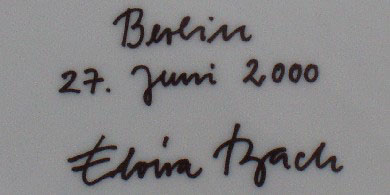 Elvira Bach signed the plate in Berlin in clear handwriting.
The artwork, plate METROPOLIS can be used in many different ways. For collectors, such fine pieces are an enrichment of their collections. As a single piece, the plate can be used as a fruit bowl. It can be used as a centerpiece on a holiday table, for for a decoration for an intimate "Dinner for Two".
In her ceramic work, Elvira Bach is working in the proven techniques. The painting of fine china, terracotta and similar materials has been done even by the great ones of the classic modern art: Pablo Picasso with his pictures of fauns, Jean Cocteau with the fine portraits of the young Orpheus, and Marc Chagall with his Biblical and erotic themes. Alexander Calder and Jean Miro have preserved for the future their abstract dreaming not only as lithographs, but also as ceramics.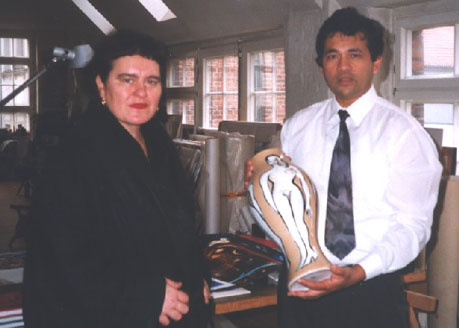 In her ceramic studio in Berlin, Elvira Bach shows one of her new works to the art publisher Marco Bodenstein: a painted vase. By painting the plain ceramics with figurative motives, she makes them into works of art. In addition to producing one-of-a kind pieces, there are also some of her works available in limited editions.
© Foto Bernd Castell/Marco-VG
© PROMETHEUS 105/2006
PROMETHEUS, Internet Bulletin for Art, News, Politics and Science. Nr. 105, MARCH 2006