---
Leopold Sedar Senghor is dead
African statesman died at the age of 95 in France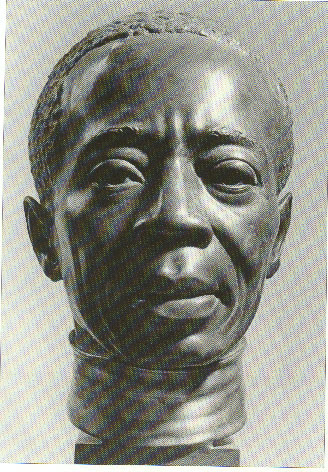 Portrait "Leopold Sedar Senghor" by Arno Breker. At the sittings for the portrait in 1978, the President said to the artist: "The lineage of my ancestors goes back all the way to the lions of Paradise." Consequently, the artist added to the basement of the bust four lion heads. (Not to be seen on this picture)
© Foto MARCO Bodenstein
Paris/Dakar (bpb) Leopold Sedar Senghor is dead. The former President of the Republic of Senegal, poet and philosopher died at the age of 95 years on December 20, 2001 in France. The funeral took place in the presence of five African chiefs of state on Saturday, December 29, 2001 in Dakar. Several thousand people attended to pay their last respects. The Moslem President of Senegal, Abdoulaye Wade praised in his funeral speech his Catholic predecessor: "Senghor has made a significant contribution to our civilization."
"There are some losses, which cannot be replaced", said Abdoulaye Wade. "But the gestures of condolances, which have reached us from all over the world, strengthen us." From 1960 to 1980, Senghor was the President of Senegal. He gave up his office voluntarily. He lived the last 20 years in Paris and Normandy, France on the estate of his second wife Colette.
In Senghor, the oldest "philosopher-king" passed away. He was in a dialog with the Czech President Vaclav Havel, as well as with the Estonian President Lennart Meri, who as writers and poets entered politics after the downfall of the Soviet Union. During his long life, Senghor was honored by many prizes and awards. His friend, the German-French sculptor Arno Breker has created a portrait bust of Senghor. The poet commented on it: "It is the face of the new Africa. From all the portraits done of me by artists, this one is the most beautiful."
Senghor was friends with the German SPD Chancellor Willy Brandt, who was the Chairman of the Socialist International for many years. The African himself was for some time the Chairman of the African Socialist International.
"I am proud to be a Negro"
Senghor was the most famous representative of the so-called Négritude. It is a concept for the regaining of consciousness of Africans and Afro-Americans about their roots and the African cultural traditions.
Senghor developed the Négritude to a philosophic and political ideology. In it, he equalled "negritude" with Africanity Senghor understood his version as an expanded humanism, no longer directed only to Europe.
"I am proud to be a Negro", said Senghor once. The brilliant African, who was a Francophile, emphasized consciously, even almost provocatively his black-African ancestry, in order to give a special aspect to the peaceful, but intellectual discussion of the cultures. "Let us work in the spirit and attitude for ONE civilization of people. Let us measure the different peoples. as well as every individual, according to the contributions they made to culture."
Senghor was as a man of culture, who was fond all the areas of art. President Senghor supported the founding of the European Art Foundation (Europäische Kultur-Stiftung). He, as well as the French President Françoise Mitterrand, were members of the board. Senghor was also a supporter of the cultural work of the US Museum of European Art (MEAUS) in the United States.
(Prometheus,82/2002)
Keep informed - join our newsletter:
Copyright 2002 West-Art
PROMETHEUS, Internet Bulletin for Art, Politics and Science,
Nr. 82, Spring 2002