---
Ruth Zucker: My Seven Lives
The author is a great European--her heart in Germany--her fight in Israel
By Joe F. Bodenstein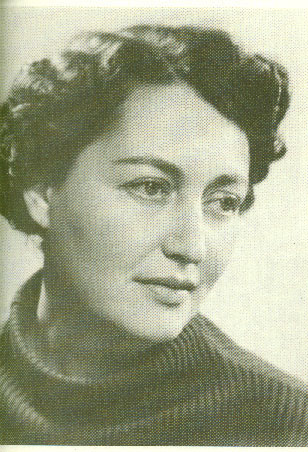 The young Ruth Zucker in 1940s, in the time of her activity as a spy for the Haganah (1937-1948).
Jerusalem (bpb) What an interesting life has had Ruth Zucker! The German Jewish lady with her roots in Europe had became a great fighter for Israel. "My Seven Lives" is the name of the autobiography of the old lady. What she has lived through, is normally not to be experienced in one lifetime. The author has lived for many years in Israel. As a resistance fighter a long time ago, she helped to found the state of Israel. After the end of World War II in 1945, she became an example for the German-Jewish reconciliation.
Born in 1914 as Ruth Koopman, a child of Jewish parents in Bonn on the Rhine, she arrived already at the age of eight a boarding school for girls in Lausanne, Switzerland. Later, she attended the Ecole Internationale in Geneva, and spent a part of her school years in the United States. "At the age of 14 I already belonged to a circle of friends around Mahatma Gandhi. There I became acquianted with Indian philosophy", recalls the author in an interview.
In 1934 she followed her lover, the physician Walter Zucker illegally to Palestine. And soon she was working for the Jewish underground movement Hagnah. About that she writes in her book "On Assignment for Israel".
After the establishment of the state of Israel in 1948, Ruth Zucker worked there in the fields psychology, graphology and astrology. She developed her own method for the graphologic-psychologic analysis of the Hebrew script. For decades she consulted statesmen and politicians in the countries of the Middle East and in Europe.
In the early 1970's she has visited Germany, her old homeland, for the first time in decades,. It was on an official invitation from the city of Bonn, inviting its former citizens, who had emigrated in the Nazi times due to fear of persecution. In Bonn she became acquianted among others with the publicist Stephan M. Vogel and his wife Jutta Vogel, who was also active as journalist in the German capital. The result is that Ruth Zucker now almost every year spends time in Germany.
With the book "My Seven Lives", the German Taschenbuch Publishing House (dtv) in Munich has published an important documentary of our times. Ruth Zucker has become a great European, and is a tireless supporter of the transatlantic cooperation. She belongs to the Alexander Order for Art and Science, is advisor to the European Art Foundation Berlin as well as to the US Museum of European Art. "Till this day I feel closely bound with John Zavrel, the founder of the Museum of European Art in New York, whom I always met in Germany', writes Zucker in her autobiography.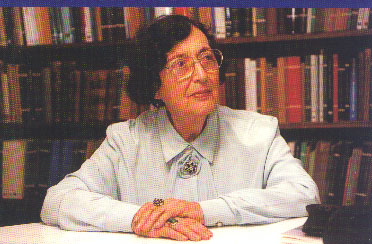 The writer and graphologist Ruth Zucker of Jerusalem.
Copyright 2002, Prometheus 83/2002
Keep informed - join our newsletter:
Copyright 2002 West-Art
PROMETHEUS, Internet Bulletin for Art, Politics and Science.
Nr. 83, Summer 2002