---
Salute to Prince Willem-Alexander and Princess Maxima
The Order of Alexander the Great congratulates the Crown Prince of the Netherlands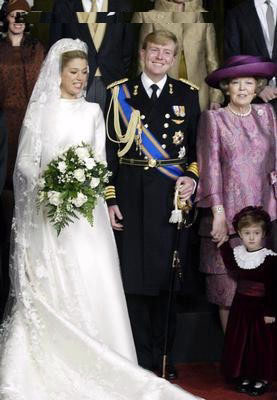 The wedding of H.R.H. Prince Willem-Alexander and Princess Maxima.
Den Haag/New York (bpb) The Order of Alexander the Great for Art and Science paid salute to the Crown Prince of the Netherlands and his young wife, Princess Maxima on the occasion of their wedding on February 2, 2002, in the city of Amsterdam. The Order has special relations to the Royal Families in Europe. In the past, many members of Royal families were admirers of Alexander the Great and member of the Order.
The Prince of Oranien received, in addition to his traditional Royal name William, also the classical name Alexander in memory of this great historical personality. This name was added by Queen Beatrix and Prince Claus of Amsberg, his German-born father.
The Chancellor and the Grandmaster of the Order have sent a message of congratulations to the Royal couple. The message of greetings reads as follows:
His Royal Highness
Prince Willem-Alexander
and Princess Maxima
Royal Palace
Noordeinde 66
Den Haag
The Netherlands
Your Royal Highness Prince Willem-Alexander
Your Royal Highness Princess Maxima!
On the occasion of your wedding, the Order of Alexander the Great for Art and Science likes to convey best wishes to you.
We wish you health and the strength to serve your present duties. May God bless you both to fulfil all the demands that will be placed on you during your political life.
It is an additional pleasure to greet Your Royal Highness, since your name reminds us to Alexander the Great. Our Order is devoted to all the positive aspects of this historical personality, among them the liberalism, culture, art and science.
The OAG supports the cultural engagement of the Museums of European Art in Europe and in the United States of America for a better understanding among nations.
In this connection, among our guest at the European seat of the Order at the Noervenich Castle near Cologne, Germany was H.R.H. the Prince of Asturias, Spain, opening an Exhibition of Salvador Dali.
We would be pleased to have you and Princess Maxima once among our guests at an major cultural European event of comparable significance.
We remember with pleasure the occasion of H.M. the Queen being honored with the International Karlspreis by the historical city of Aachen, Germany in 1996 and her encouraging speech about European Unity. Our representative took part at this memorable event, meeting Her Majesty.
We remain,
in admiration and respect
Sincerely,
Consul B.J. Zavrel .................................Dr.Wilson Greatbatch
Chancellor of the Order .........................Acting Grandmaster OAG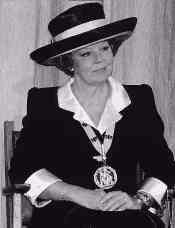 Queen Beatrix of the Netherlands in 1996 accepts the Award "Internationaler Karlspreis der Stadt Aachen". This Award honors statesmen for their engagement for European unity. Among the prize recipients are the former US President Bill Clinton, the Czech President Vaclav Havel and Henry Kissinger.
.
Keep informed - join our newsletter:
Copyright 2002 West-Art
PROMETHEUS, Internet Bulletin for Art, Politics and Science.
Nr. 82, Spring 2002