---
Pope Blessed the Wine from the Rhineland
"Spätburgunder Auslese Trocken" for the Holy Mass in St. Peter's Cathedral in Rome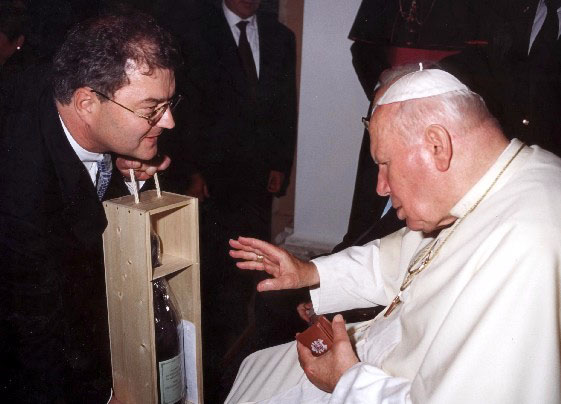 Pope John Paul II accepts the first magnum bottle of the special mass wine from Germany. The publisher Stephan Vogel from Berlin handed over the noble wine in the Pope's summer residence Castel Gandolfo.
Photo Copyright Urbani/Marco-VG
Rom/Castel Gandolfo (bpb) Pope John Paul II has accepted a special bottle of a mass wine from the Rhineland. The publisher Stephan Vogel from Berlin brought the magnum bottle of "Spätburgunder Auslese Trocken 1997" of the Kühling-Gillot vinyard in Bodenheim. The Holy Father gave Vogel an audience in his summer residence Castel Gandolfo.
The meeting took place in the connection with a concert of the Philharmonic Orchestra of Nations, which was conducted by its conductor Justus Frantz. At the meeting, the Pope was overjoyed: "I bless you, my son and I bless winemakers who made this noble wine for the Holy Eucharist."
The Pope listened with interest how Vogel explained that the young winemakers from Rheinland-Pfalz set aside a part of the harvest "for the production of the pure wine for the celebration of the Holy Eucharist". This event takes place in a holiday atmosphere, with representatives of the Church and politicians. To provide "the best, pure wines for the supper is a good tradition", said the Pope. "It will bring blessings to all those who helped with heart and hand".
In Berlin, Vogel represents with his agency "Weinlife" exclusively German wines from the largest vinyard area Rheinland-Pfalz, through which run the famous "Wine Road" and the "Southern Wine Road".
The production of mass wine is, according to Vogel, strictly regulated by the Catholic Church. The process is closely observed. "Only naturally pure wines of the best kinds may be used for the production. Namely, according to the Catholic teachings, at the Eucharist the wine turns into the blood of Jesus, which is a unique mystery." The vineyards which produce the mass wines must obtain approval from the local Bishops.
The Minister for Wine Production of the State Rheinland-Pfalz, Hans Aturn Bauckhage thanked the wine growers in the largest German wine producing area, that they have proved themselves once again in the production of the mass wine. "The German wine is good and pure", said the Minister. And the wine drinkers can rely on that.
Keep informed - join our newsletter:
Copyright 2002 West-Art
PROMETHEUS, Internet Bulletin for Art, Politics and Science.
Nr. 85, Winter 2002