---
Peace Medal for the African Singer Miriam Makeba
Germany honors "Mama Africa" for her Human Rights Engagement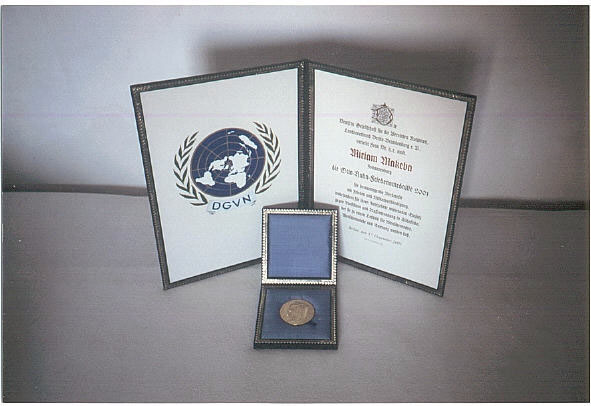 The golden peace medal and the certificate for Miriam Makeba.
© MARCO/United Nations
Berlin (bpb) The South African singer and human rights activist Miriam Makeba was honored with the Peace Medal in Gold by the German Society for the United Nations in Berlin. The Medal is named after the German NobelPrize winner Otto Hahn. The ceremony took place on the 17th of December 2001 in the German capital.
In the recent years the medal was given also to Sir Yehudi Menuhin, Michail Gorbachev and Simon Wiesenthal, known as the "hunter" of Adolf Eichmann.
"I am very honored to get this award in Germany", Miriam Makeba said in an interview with "Prometheus". She believes that music and cultural events can have a positive effect for better understanding between people of different countries and continents. "But all of us must do something for this understanding", the 59-years old singer added.
South Africa's legendary musical sensation, Miram Makeba was banned for over 30 years from her homeland. After the end of the apartheid system in South Africa, she was allowed to return home in 1990, where she was welcomed by Nelson Mandela. During her 30 years in exile she had a world-wide carrier as an artist. Especially in Europe and in the United States she became very famous. She combined singing with engagement for human rights and for freedom. On her tours she met leading people from all over the world such as John F. Kennedy, Francois Mitterrand (France), Fidel Castro, Emperor Haile Selassie (Ethiopia) and the Pope in Rome.
Miriam has been a Guinean delegate to the United Nations, where she addressed the General Assembly on two occasions, speaking out against the evils of apartheid. Born in 1932, she will celebrate her 70th birthday next year. "I will not give up singing, until I die", Miriam said in the Interview with "Prometheus". For 2002 she plans several concerts on different continents. Now she is engaged in social projects for South Africa, to strengthen the democratic development. "We have to fight against unemployment and the Aids disease, and we have to pay more attention to the education of the black population in South Africa", Miriam said.
Keep informed - join our newsletter:
Copyright 2001 West-Art
PROMETHEUS, Internet Bulletin for Art, Politics and Science,
Nr. 81, Winter 2001