---
Mary McAndrew
By B. John Zavrel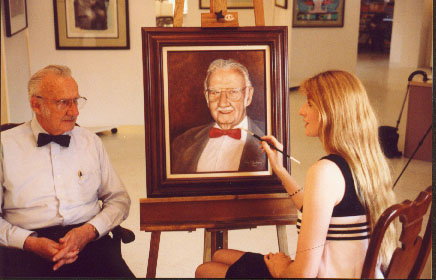 Mary McAndrew working on the portrait of the inventor Wilson Greatbatch.
BIOGRAPHY
1962
August 27th, born in Endicott, New York into a family of Irish and German ancestry. Her father, a teacher and wood carver, gets her interested in art at an early age.
1981
spends four months as full time Zookeeper at the Ross Park Zoo in Binghamton, New York. Also supervises volunteers and presents various educational talks and demonstrations to visitors about animal habitats and behavior. This experience turns into a life-long love of animals.
1981-1984
starts her art studies at the Broome Community College.
Portfolio showing of photographs, drawings and prints. Develops a presentation on Chinese writing and painting, and demonstrates the techniques and history. Introduces a guest painter from China.
1984-1985
continues her art studies at State University College at Buffalo, where she receives a Bachelors of Arts degree in Design and Fine Arts.
In summer of 1984 works as assistant in a library, showing films, slides and audio presentations. In fall works as assistant in a wood shop, working with heavy equipment, saws, drills, sanders, and hand carving tools. Designs innovative furniture and sculptures.
In spring and fall participates in exhibitions at the Upton Gallery in Buffalo, showing relief carvings, sculptures and mixed media works.
After graduation, moves to Toronto, where she does poster design for video games, lettering on jukeboxes, signs and maintenance.
In February has her first, one-woman exhibition at the Attitudes Gallery in Toronto of her paintings with the theme of wildlife in watercolors, ink, monoprints, pastels and photographs.
1986-1987
continues studies at State University College at Buffalo in Art Education.
Starts student teaching in Lockport, New York. There she designs, develops and implements educational programs for grades 10 - 12, including areas of ceramics, studio, advanced drawing and advertising design. Teaches two advanced classes, develops displays and coordinates after school art activities.
In fall, assists at State University College in Buffalo with musical production, researches and coordinates costume design and make-up, assists with set construction and creates a slide documentation of the production.
1987-1991
Poster and sign design at Intertech Satellite Systems in Lockport. Poster and sign design for mall and television displays, paints satellite dishes as advertisements.
Marries Paul Stephen and they start a family. They have two sons, Paul (1990) and Connor (1992).
1991-2000
establishes and operates Mary Mac Designs in Clarence, New York. Teaches sewing and art at several local schools and in her studio.
2001
Starts to turn her attention back to painting.
In spring, visits the Museum of European Art in Clarence and becomes more exposed to European art of the classical tradition. Five of her paintings are shown in the Museum's collection.
Makes a drawing of Salvador Dali. Becomes acquainted with the work of the Swiss-German sculptor and painter Renate Stendar, and in summer completes her pastel painting of her, "Renate Stendar and the Sun of Hope." Establishes correspondence with the 81-year old artist.
In October, has the exhibiton A NEW DAY DAWNING at the Museum of European Art (MEA). Becomes acquainted with the Toronto painter Edward Tabachnik, whose five new paintings from his series "Halls of the Hermitage' are shown at the MEA at the same time.
Starts the series 'Journey of a Soul' with her pastel "To the Light in the Forest".
Gets appointed as co-director of the Museum of European Art.
2002
Portraits of Ronald Reagan and Wilson Greatbatch, the inventor of the pacemaker are completed.
Makes contacts with several college art departments in Buffalo area to find ways to display students' art at the museum. Helps to develops programs, exhibitions and cultural events at MEA for 2002.
Establishes correspondence with the prominent European art publisher and collector Joe F. Bodenstein, who encourages her to continue to work in the realistic style, and to cooperate with MEA founder John Zavrel to continue the dialog between the young artist generations of Europe and America. Invitation to visit his Nörvenich Castle near Köln, Germany follows.
With Consul John Zavrel, Mary McAndrew discovers the young photographer Kenneth Dulian, and is instrumental in bringing his exhibition 'Lighthouses in Perspective' to MEA in May.
Continues her work on portraits with 'Debutante', and on develops the series 'Journey of a Soul' with additional works, 'Passages' and 'Meditation'.
Creates two oil portraits of the young Indian dancer Suhasini Sumithra. Starts a series of small landscapes. Turns her attention to the Greek and Celtic mythology and finds inspiration for ink and watercolor 'Daphne Transformed'.
Continues an international artistic dialog with meeting the painters V.A. Ilango (India), Juan Martinez (Canada), Professor Montserrat Barenys (Spain). With Consul John Zavrel, does an in-depth interview with Dr. Wilson Greatbatch, the inventor of the pacemaker.
Meets the English-Canadian master painter John Michael Angel in his art academy in Toronto, and pursues further in-depth study of drawing and painting in his studio.
Co-founder with John Zavrel of the new international initiative "Eleanor and Wilson Greatbatch Collection" for the Museum of European Art. The new collection was established to honor the inventor Wilson Greatbatch and his wife Eleanor, as well as inventors in general. Her painting 'Inventor Wilson Greatbatch' is accepted into the new collection, along with works of Kurt Arentz (Germany), Renate Stendar (Switzerland), Hugo Haig-Thomas (Great Britain), Peter Hohberger (Germany), Edward Tabachnik (Canada), and ViviAnn Rose (Utah), Pat Roberts (California), and others.
Announces the establishment of a new program at the Museum of European Art "A Chance for the New Generation", giving an opportunity to young artists to exhibit their works at the Museum. Among the first artists shown in the program were Prof. Montserrat Barenys (Spain), Roger Murray (Canada), Violeta Trajanova (Bulgaria), Bradley Widman, Joseph Czarnota and Geeta Harvey (United States) and Slavka Kolesar (Canada).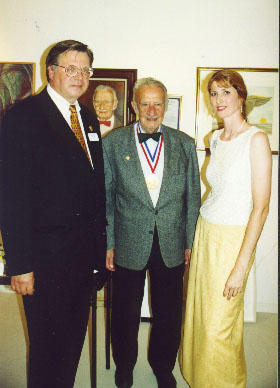 Consul John Zavrel with the inventor Dr. Wilson Greatbatch and the painter Mary McAndrew at the Museum of European Art in Clarence.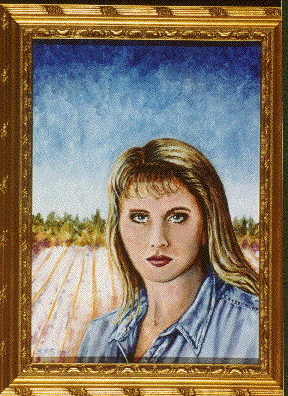 Self Portrait, by Mary McAndrew (1995)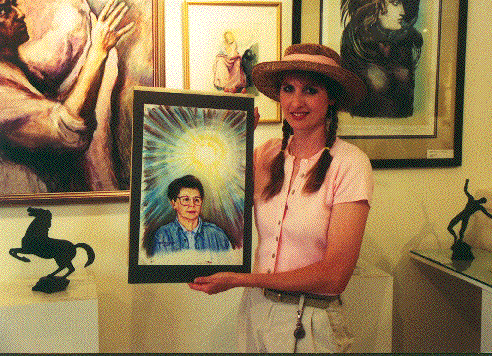 Mary McAndrew presents her work 'RENATE STENDAR AND THE SUN OF HOPE' to the collection of the Museum of European Art. Starts correspondence with the 82-year old Swiss-German sculptor and painter.