---
Maha-Mandaleshvara
SWAMI VEDA BHARATI
Author, Poet, Philosopher, Vedic Scholar and World renowned Spiritual Guide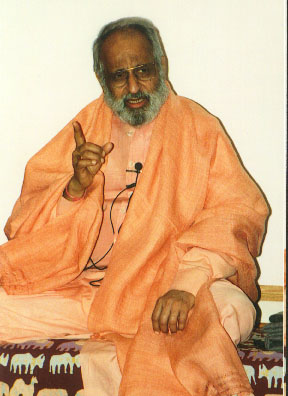 A sage of our times: Swami Veda Bharati, disciple of Swami Rama of the Himalayas.
Lectures and Workshops on Eastern Philosophy, Yoga Science and Meditation with
One of the Most Authentic Teachers of Himalayan Yoga Tradition
Author of many books including 1500 pages extensive commentary on chapters one and two of Patanjali's Yoga Sutras. Swami Veda is well versed in the scriptures of all major religions and understands many languages which allows him to teach Meditation to people of different faiths, - Hindus, Buddhists, Muslims, Christians, Sikhs - from within their own scriptural and meditative traditions. Given his familiarity with all known meditative traditions and the different schools of Eastern and Western philosophies, the Buddhists are given Buddhist Mantras, the Christians are guided in accordance with the rich Christian meditative and contemplative traditions, and so forth.
Location: VEDIC CULTURAL CENTRE
14th Avenue, Markham
(2 Blocks West of Kennedy/14th Ave.)
THURSDAY, AUGUST 1, 2002 7PM - 9PM
Topic: Tranquility in Yoga Asanas - How to Deepen One's Sadhana
SUNDAY, AUGUST 4, 2002 11AM - 2PM,
Topic: Five Pillars of Sadhana

No charge but donations welcome for the new Sadhaka Grama Ashram in Rishikesh

For more information, please contact:

Shri Amar Erry, 905 471-1211, Anand Rupnarain 416 - 422-2295,

Adit Kumar 416 - 284-1323
---
Location: The Yoga Studio,
344 Bloor St. West, Suite 400
Tel: 416 923-9366
Friday, AUGUST 2, 2002
Saturday, AUGUST 3. 2002
Sunday, AUGUST 4, 2002
7PM - 9PM, Cost: $25 per evening
For more information please call:
Christine Cinq-Mars Tel: 416 534-2603
---
Location: Cambridge Mind / Body Centre
336 Eagle St. North, Unit 2J, Cambridge
MONDAY, AUGUST 5, 2002
8:30AM - 5PM, Cost: $50 Registration includes Lunch
For more information please call:
Gita Morar 519 653-9611; gitamorar@aol.com
---
Vedic Cultural Centre: www.vedicculturalcentre.com;
Swami Veda: www.bindu.org, www.meaus.com
For directions:
Vedic Centre 905 475-5778,
Sharda Bhajan 905 479-9657,
Email: ckhanna@msn.com