---
Hugo Haig-Thomas--A Biography of a Special Artist
Painter and Diplomat of Her Majesty Queen Elizabeth II. of Great Britain
By John Gilbert Bodenstein,
President of The European Art Foundation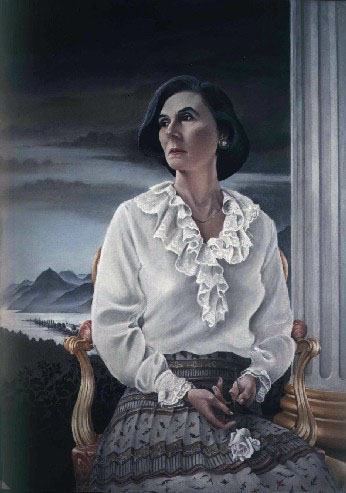 Lady Broomfield, London. Portrait by Hugo Haig-Thomas
© Foto Marco-VG, Bonn)
London (bpb) It is a pleasure to read the biography of Hugo Haig-Thomas, a special artist of our time. Some artists combine their creative activity with a normal career. In Germany Johann Wolfgang Goethe, for example, produced some of his literary works whilst holding an appointment which occupied him during the day. In France the German writer Rainer Maria Rilke was secretary to the sculptor Auguste Rodin. And the famous European author Ernst Juenger was an officer in both World Wars.
Haig-Thomas likewise was for a number of years a member of Her Majesty's Diplomatic Service, but throughout his service he continued to paint and draw.
Born in 1947, Hugo Haig-Thomas spent his whole childhood in Kenya. From a very early age he showed a remarkable ability to draw. His initial artwork consisted of cartoons and landscapes. But he later turned to plants and birds, drawing his inspiration from the rich bird-life and flora of Africa
When he was seventeen, Haig-Thomas was sent to England to complete his education. "I should have gone to art college," says Haig-Thomas, "but my downfall was that I was bright &endash; I ended up at Cambridge University studying classical Arabic and history."
In 1974 Haig-Thomas entered Her Majesty's Diplomatic Service. His career as a diplomat took him to the Lebanon, Jordan, the Yemen, Düsseldorf, Berlin (British Military Government), Copenhagen, Bonn and Berlin again (British Embassy Berlin Office).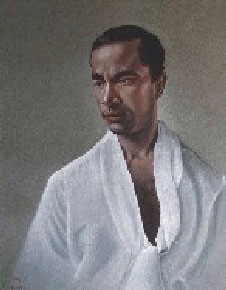 Portrait Bertram Christopher 1998 by Hugo Haig-Thomas, London
© Foto Marco-VG, Bonn
In the Diplomatic Service Haig-Thomas always found time to paint and draw.
Whilst in the Yemen, for example, he painted the botanical illustrations for 'A Flora of the Yemen' by John Wood (published by the Royal Botanical Gardens, Kew 1997). And in Berlin, he made pen-and-ink drawings from Roger Peyrefitte's novel 'Les amités particulières' in honour of the author's 90th birthday. (These drawings were later reproduced by West-Art, New York, in the 1999 issue of an English translation of the novel ('Secret Friendships').
In 2000 Haig-Thomas organised the Danish State Visit to the United Kingdom for which The Queen of Denmark made him a Knight 1st Class of the Order of the Dannebrog. He then retired early from the Diplomatic Service in order to devote himself full-time to art. Haig-Thomas now lives and works in London.
His paintings and drawings are in many collections, such as the US Museum of Europaen Art, New York, the European Art Foundation Berlin and the Art Museum, Noervenich Castle.
© Prometheus 82/2002)
Keep informed - join our newsletter:
Copyright 2002 West-Art
PROMETHEUS, Internet Bulletin for Art, Politics and Science.
Nr. 82, Spring 2002