---
THE GIORA FEIDMAN MEDAL
Museum and the Art-Foundation honor the "King of Klezmer"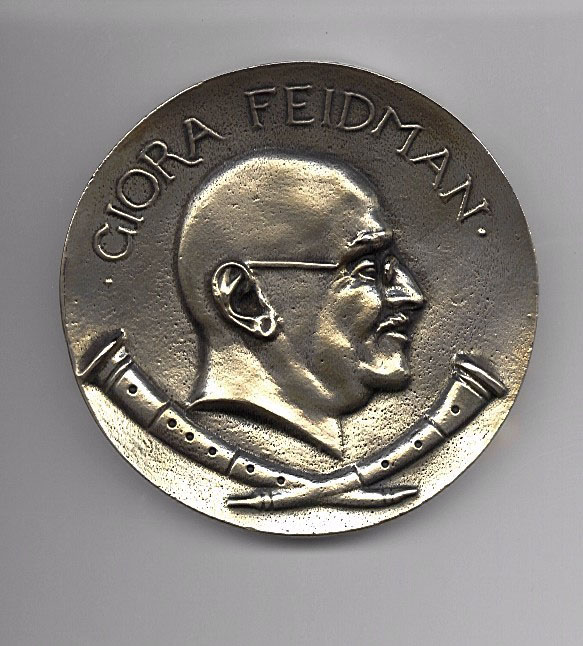 The GIORA FEIDMAN medal in honor of the great artist and his music
by sculptor Mirco Donst.
The medal shown is silver-plated
© Foto: MARCO/MEA
Berlin / New York (bpb) Giora Feidman, the internationally known artist of the Jewish Klezmer-Music has been honored with an art medal. The precious work of art shows the portrait of the "King of Klezmer" and two clarinets, his special instrument.
The American Museum of European Art and the European Art-Foundation (Europäische Kultur Stiftung) have commissioned this work by the Berlin sculptor Mirko Donst. The Jewish artist has learned the Klezmer music already as a child from his father in Argentina. One must hear him play to understand the emotion, tradition and power of these tunes. Klezmer is not only based on notes, but mostly on individual interpretation. This makes the clarinet sound like singing, crying, or loving.
Giora Feidman is in Europe, and specially in Germany, an absolute star. This was already the case before he played the clarinet for the sound-track of Spielberg's movie "Schindler's List". This films tells the story of how Germans helped Jews in the former Sudetenland (Bohemia and Moravia) during the Third Reich.
Feidman was invited on many occasions to play at official events of the Federal Government in Berlin. So he was the first virtuoso ever who played "Klezmer" at the German parliament at the Reichstag-Building in Berlin near the Brandenburg Gate. Feidman also gave a concert at the Museum of European Art and the Art-Foundation at Noervenich Castle near Cologne, Germany.
The solid bronze Medal Giora Feidman is published in a limited edition for art-collectors, music lovers and friends of Israel.
This unique work of art can be framed, or used as a coffee-table sculpture
Size: Height 10 millimetres
Diameter 120 millimetres (about 5 inches)
The patina of the medal is silver plated, gold plated or antique green.
For more details on ordering the medal, please contact: zavrel@meaus.com
In Europe contact: info@europaeische-kultur-stiftung.org
Keep informed - join our newsletter:
Copyright 2002 West-Art
PROMETHEUS, Internet Bulletin for Art, Politics and Science.
Nr. 82, Spring 2002