Home | Alexander Order | Coats-of-Arms | Articles | Latest News
---
Elvis Presley Sex-Life
Is Prince Charles bisexual? Secrets of the Prominent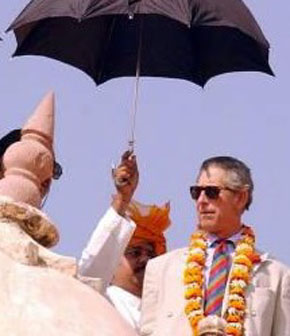 Prince Charles in India on November 4,2003. He visited the state of Rajastan, where already many years ago his mother, back then the young Queen Elizabeth II, went to hunt tigers with the Maharaja of Jaipur and the Nawab of Loharu.
Foto: Fotopool-India
London / New York / New Delhi (bpb) Prince Charles (54) is shocked: While on his journey in India in November 2003 he had to hear that magazines in Europe are reporting stories about his alleged bisexuality. The heir to the throne let these reports be suppressed. In Great Britain, 14 foreign magazines with these reports were forbidden, as reported by the press agency Associated Press.
The excitement about rumors about Prince Charles opened up in Europe the discussion about the sex-lives of other prominent personalities. To them belongs the unforgettable Elvis Presley, who was stationed as a young soldier in Germany. Up to now it has been a tabu to publicly speculate about the sexual predisposition of Elvis Presley. While the "King of Rock" has been spared by the media, other prominent personalities were forced to come out of the closet. To them belongs in Germany the reigning Mayor of Berlin, Klaus Wowereit. The prominent SPD politician and party friend of the German Chancellor Gerhard Schröder is often to be seen at official events with his male partner.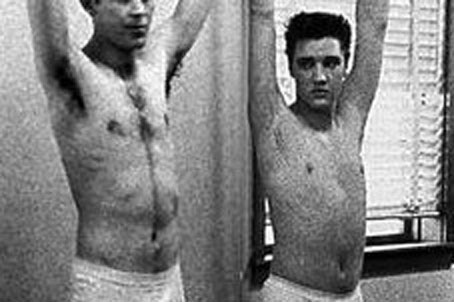 Elvis Presley (right) half naked with a young friend. The private photo is from the beginning of his military service.
Copyright Presley-Archive/Marco-VG
One does not hold homosexuality against Wowereit any more than for example the homosexual or bisexual orientation of the handsome Hollywood star Rock Hudson. In order to bring light on the private secrets of deceased Hollywood stars, a team of experts in Europe is collecting information also about Elvis Presley. One source are eyewitnesses, who have been privately associated as friends and acquaintances with Elvis Presley.
The question is already now: how will the Elvis fans take the possible bisexuality of their idol? Will it bring protests and denials, or rather tolerance and understanding for the great singers? A sensitive side of Presley could even increase people's affection for him, according to the opinion of some Presley fans.
Copyright 2003 West-Art, Prometheus 90/2003
Keep informed - join our newsletter:
Copyright 2003 West-Art

PROMETHEUS, Internet Bulletin for Art, Politics and Science.

Nr. 90 Winter 2003