Home | Alexander Order | Coats-of-Arms | Articles | Latest News
---
Summertime with Elvis Presley
What happened in the German forest? Documents discovered about an old friendship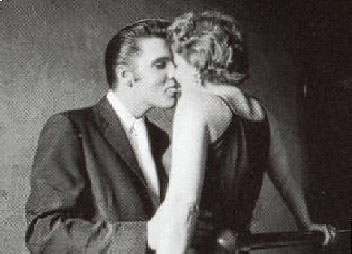 This is what some girls liked: the sexy Elvis kissing with his long, soft tongue. He made the girls backstage happy. This was one part of his secret life.
© Foto: Art-Music-Archive
Wiesbaden/Germany (bpd) Numerous books about Elvis Presley were published in the last decades. But they include hardly any reports about his private, secret life. Just now old documents from a diary were found about the time Elvis Presley spent as a GI in Germany, between 1958 and the summer of 1959. "Presley made a friendship with a journalist during an interview in the army barracks", said the author Joe F. Bodenstein. He is examining the materials to decide whether to publish them or not.
The friendship with the 22-year old German lasted until 1958. The relations cooled down when Elvis met the 14-year old Priscilla Beaulieu. She was ten years younger than him. They got married on May 1, 1967. On February 1, 1968 Elvis and Priscilla's baby Lisa Marie was born.
Elvis Presley and his friend spent their free time mostly in the German forest Spessart. Presley arrived in Germany on October 1st at the harbour of Bremerhaven. As a GI he was posted for one and half years in the town of Friedberg, but lived in Bad Nauheim. For Presley, it was easy to reach the Spessart Forest, without raising public attention. It is reported that Elvis was very much liked by his comrades in the Army, since the King of Rock did not ask for any special treatment. In his free, time Elvis and his hidden friend used to stroll in the forest and stayed overnight in this area, known for its fairy tales and legends.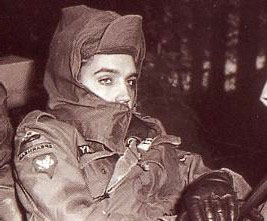 Hardly to be recognized: innocently and thoughtful looking Elvis Presley in 1958 as a GI in Germany. He is dressed up in an American army uniform during military exercises in the forest. But what is going on behind the mirror of his thoughts?
© Foto: Military Archives
What else had happened with Elvis in the German forest? "Definitely not, what a common man would expect", says Bodenstein. A novel on this "Summertime with Elvis Presley" would be very interesting, in order to show new aspects of this great musician. "We know many things about the secret lives of Rock Hudson, Elton John, Marlene Dietrich, Madonna, the writer Thomas Mann and many other international personalities and Hollywood actors", says Bodenstein. To discover a new side of Elvis Presley would not decrease his glory.
© Prometheus 82/2002
Keep informed - join our newsletter:
Copyright 2002 West-Art

PROMETHEUS, Internet Bulletin for Art, Politics and Science.

Nr. 82, Spring 2002