Last updated June 6, 2003
---
Exhibition "The Miracle of Creation" at MEA
---
NATURE AND WILDLIFE
July 17, 2003 to October 9, 2003
Museum of European Art
www.MEAus.com
10545 Main Street, Clarence, New York 14031
Hours: Tuesday - Friday, 10 am - 5 pm, Saturday 1 - 4 pm (Free admission)
716.759.6078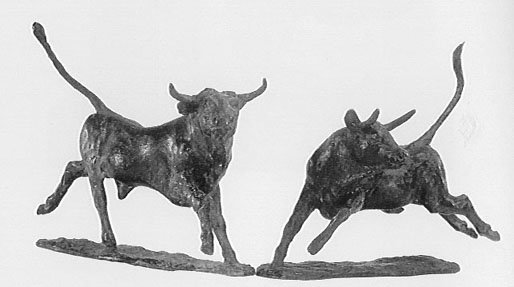 A pair of bulls in bronze by the prominent German sculptor KURT ARENTZ will be among the works of art presented in the exhibition, which will open on JULY 17, 2003.
Paintings and sculptures on the theme 'Nature and Wildlife' by artists from Utah, California, Germany and Western New York: ViviAnn Rose (Utah), Pat Roberts (California), Kurt Arentz and Jan Künster (Germany). From Buffalo area: James McAndrew, Leonard Rusin, Cynthia Kelley, Paula Borkowski, Mary McAndrew Stephen, Curtis Wright, Brenda Piccione, Kathleen Kelly and Dr. Elizabeth Doherty.
Exhibition will continue to October 9, 2003.
---
DEBUT OF THE DANCER SUHASINI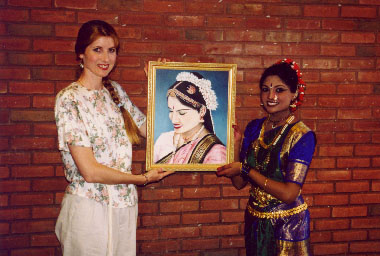 After 11 years of study with her dance master, Dr. Tejaswini Rao, the 17-year old SUHASINI SUMITHRA had her first solo dance performance, which kept the audience spell-bound for two full hours. For the special event, her grandfather, Mr. R. Simhadri and his wife came all the way from Bangalore, India.
In the photo, the dancer poses with the painter Mary McAndrew Stephen and her painting of the young artist.
---
AT THE HERMITAGE
April 24, 2003 to July 3, 2003
Museum of European Art
www.MEAus.com
10545 Main Street, Clarence, New York 14031
Hours: Tuesday - Friday, 10 am - 5 pm, Saturday 1 - 4 pm (Free admission)
716.759.6078
Paintings and sculptures by Canadian and American artists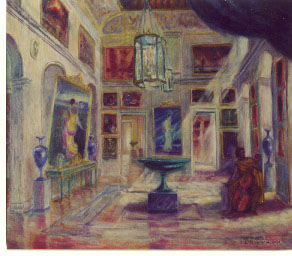 'Reception Hall. Small Hermitage", original oil painting by E. Tabachnik
Also shown works by Loren Corley, Slavka Kolesar, James Culligan, and Craig Chivers from Canada. American artists are Cornelia Dohse-Peck, Bradley Widman, Mary McAndrew, Margaret Stucki, Judie Champlin, Stella Shalumova and Amos de Barros.
Opening reception on Thursday April 24, 2003 from 6 - 8 pm. Introduction of artists at 6:30 pm.
Exhibition continues to July 3, 2003.
---
Albright-Knox Art Gallery
www.albrightknox.org
1285 Elmwood Avenue, Buffalo, New York 14222
Hours: Tuesday - Saturday 11 am - 5 pm, Sunday Noon - 5 (Admission $ 4)
716.882.8700
---
Maestro Nicholas Goldschmidt Honored in Toronto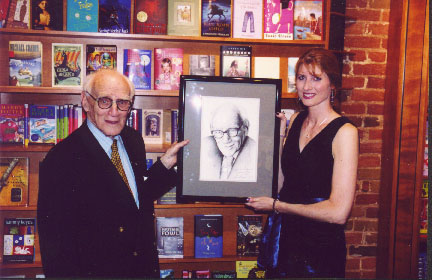 Clarence painter Mary McAndrew Stephen with Maestro Nicholas Goldschmidt, showing him her drawing of the 94-year old musician, who has been a legend in the Toronto music community for decades.
The meeting took place at the 'Nicholas Hoare Bookstore' in Toronto, on the occasion of the launch of the biography of Mr. Goldschmidt.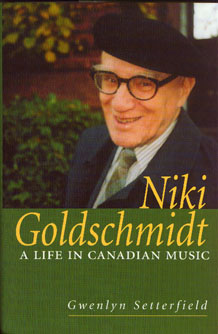 "Niki--as the elder gentleman is affectionately known among his colleagues and art patrons--is constantly looking for new idea to promote music in Toronto...he is an amazing person, truly one of Canada's national treasures', said about him Lydie Krupicova, the administrator of last year's music festival "Joy of Singing", who has worked with him for a number of years.
---
Canadian Opera Company
www.coc.ca
---
Canadian artists visit Museum of European Art in Clarence
www.MEAus.com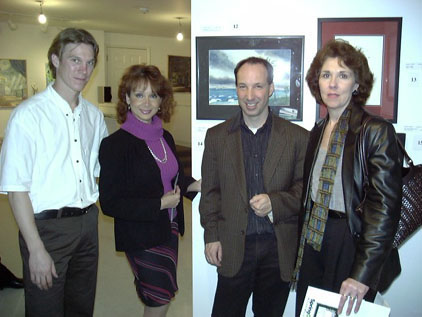 At the reception for artists at the opening of the exhibition "At the Hermitage": Canadian artists Craig Chivers and Lorne Corley from Canada with Alicia Granto-Estenoz and Anne Marie Vandercher.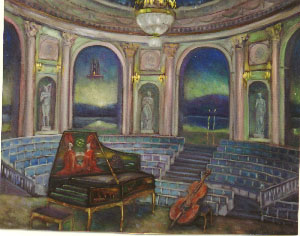 Concert in the Hermitage. An oil painting by Edward Tabachnik from Toronto, one of six works from his series "The Halls of Hermitage" currently on display at the Museum of European Art in Clarence.
---
Farewell to Maestro Joseph Wincenc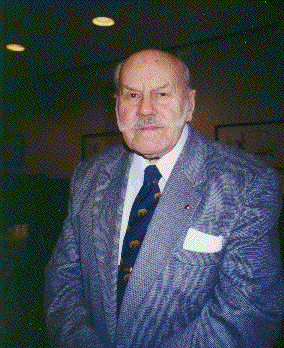 A Knight of the Alexander Order: Dr. Joseph Wincenc
With sadness we say farewell to a very special American, the music conductor Dr. Joseph Wincenc. He passed away in a Boston suburb at the age of 88 years. He will be missed by many friends and music lovers in Buffalo and Western New York area.
Although his baton has been silenced, his favorite saying, "music brings unity to the community' will continue to inspire the young musicians and music lovers.
A recent article about his life and work is at this link
http://www.meaus.com/wincenc.htm
---
ART GALLERY OF ONTARIO
Toronto, Canada

416.977.2246

Monday,Tuesday,Thursday & Friday 11 am to 6 pm, Wednesday 11 am to 8:30 pm, Saturday & Sunday 10 am to 5:30 pm.
---
Memorial Art Gallery
http://mag.rochester.edu
585.473.7720
---
Buffalo Arts Studio
www.buffaloartsstudio.org
2495 Main Street, Suite 500, Buffalo, New York 14214
Hours: Tuesday - Friday 11 am - 5 pm, Saturday 11 am - 3 pm (Free admission)
716.833.4450
---
Buffalo Arts Council
www.artsbuffalo
700 Main Street, Buffalo, New York
Hours: Moday - Friday, 9 am - 5 pm (Free admission)
---
'Enigma" by Binyamin Shalumov winner at MEA
www.MEAus.com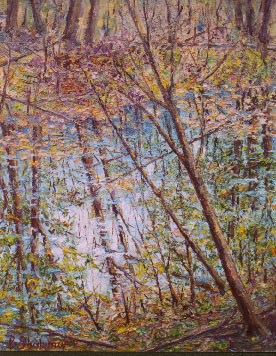 The original oil painting 'Enigma' by the Russian-born painter Binyamin Shalumov from Williamsville, NY was the winner of voting by visitors to the Museum of European Art. On April 26, 2003 the artist was already in Moscow, at the opening of an extensive one-man exhibition of some 60 of his recent landscapes.
---
Keep informed - join our newsletter:
Copyright 2003 West-Art
PROMETHEUS, Internet Bulletin for Art, Politics and Science.
Nr. 88, Summer 2003