---
Meeting with the Toronto painter Juan Martinez
By Mary McAndrew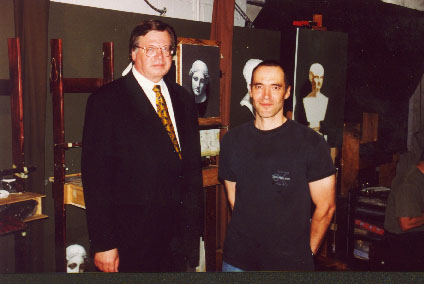 Consul B. John Zavrel in the Toronto art academy Angel Studios with the Canadian painter Juan Martinez.
Toronto (mea) Juan Martinez is an accomplished painter who has studied in Florence, Italy and in Canada with the master painter Michael John Angel. He paints in the style of classical realism--which is the traditional, realistic style.
Juan Martinez lives and works in Toronto, Canada. He is recognized both as an instructor in the atelier system (he teaches at the Angel Studios) and at the same time he is an active artist, accepting commissions in a variety of genres including figure, landscape, wildlife, and illustration. He has been part of travelling national exhibitions and his work hangs in private collections throughout Canada.
He works in oil paint, charcoal and carbon, with a preference for subjects featuring the human figure. In his works and in instructing, Martinez emphasizes the importance of draftsmanship in painting and drawing.
Mr. Martinez has studied under Michael John Angel for a number of years, at both the Toronto and Florence studios. In addition to the technical aspects of drawing and painting, he is interested in the more theoretical aspects of what art should seek to accomplish.
At a recent meeting with the artist at the Angel Studio in Toronto, Consul John Zavrel of the Museum of European Art in Clarence, New York asked the young artist about his artistic creed. This is what he had to say: "I believe only in well-crafted, representational art, and that it is the highest form of visual art one can aspire to in Western culture." He also believes that the learning process for an artist is one that never stops.
More information about the artist can be found at his web site at:
www.juanmartinez.com
Keep informed - join our newsletter:
Copyright 2002 West-Art
PROMETHEUS, Internet Bulletin for Art, Politics and Science.
Nr. 83, Summer 2002