---
Salvador Dalí gets a new make-up
The monumental bust by Arno Breker is unique in the world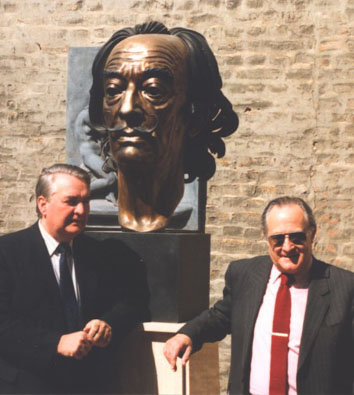 The bronze bust of Salvador Dalí is an attraction in the Museum Europäische Kunst at the Nörvenich Castle in Germany. It was unveiled in 1991 by the Spanish crown price Felipe, the Prince of Asturias. The photo shows the bronze bust with two admirers of the surrealist: the curator Joe F. Bodenstein and the author, publisher and photographer Robert Descharnes (Paris).
© Foto Dali-Archive EKS, Breker-Archive/Marco-VG
Paris/New York (bpb) Salvador Dalí gets a new make-up. The monumental portrait of the surrealist was created by his artist friend Arno Breker. The bust was unveiled in 1991 in the presence of the heir to the Spanish throne, Prince Felipe and the German Foreign Minister Hans-Dietrich. "The clean-up of the bust, which is displayed outside, will be completed by the 102nd birthday of Dalí, on May 11, 2006", says the curator Thomas Blumann. Then, the face of the "Divine Dalí" will radiate in the splendour of the new patina.
The monumental portrait of Dalí is the result of a joint project of bothe artists, which took several years to complete. The initial idea came from Dalí's private secretary of many years, Captain Peter Moore. Dalí wanted that one exemplaire of this bust should be exhibited in his museum, and another on the beach of his hometown Port Lligat. But he died, before this idea could be realized. His heirs, among them the country of Spain and the Royal House, have not yet made this grandious dream into reality.
In addition to the large portrait, a middle-size, larger-than life version was created. And already in 1975, a small bronze bust of Dalí has been available. It was Dalí's wish that his international collectors should be able to purchase it. Dalí was deeply moved by the masterful work by Arno Breker, and said about it: "Arno Breker is the Prophet of Beauty. In this portrait, Breker has captured my soul."
The www.museum-arno-breker.org has available for sale several exemplaires of this unique bust, which had been produced already during Dalí's lifetime by Venturi, Dalí's own foundry.
International museums continue to be interested in borrowing the portrait-bust of Dalí, to be shown at exhibitions in their museums. (26.01.2006)
© PROMETHEUS 104/2006
PROMETHEUS, Internet Bulletin for Art, News, Politics and Science. Nr. 104, FEBRUARY 2006