---
Original etching of the Nörvenich Castle
A nice present serves a good cause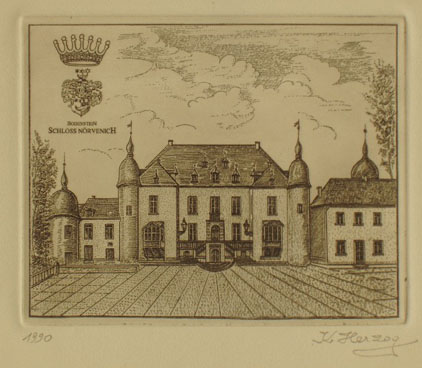 The original etchings "Nörvenich Castle" from the year 1990/1991. The artist Karl Herzog created the graphic work in the style of the old masters. The work is available in two sizes, on hand-made heavy paper, and hand signed. A few of the exemplaires are colored. For more information, contact museum@europaeische-kultur-stiftung.org
© Foto Marco Bodenstein
Nörvenich (bpb) The collection of the "Nörvenich Historical Museum" received a gesture of support from the European Art Foundation: they received several hand-signed exemplaires of the original etching "Nörvenich Castle". The fine prints are available for $ 120. The proceeds will benefit the historical museum. Orders can be sent by e-mail to info@europaeische-kultur-stiftung.org
The etching was created by the painter and graphic artist Karl Herzog from Stuttgart in Germany. It shows the historical building in the year 1990/91. That year, the visit to the Nörvenich Castle by the Spanish crown prince Felipe of Asturias began a new cultural epoch of important international activities. These take place without any financial support from the German government. This cultural engagement for the benefit of general public can be an example to other organizations in the era of the 'black and green coalition' led by the German Chancellor Angela Merkel, and the government's complains about an empty treasury.
The original etching, made in the style of the old masters, shown the characteristic contours of the castle complex. "It is an excellent artistic work, which will bring recognition not only to the Nörvenich Castle, but the surrounding area as well", according to the curator Thomas Blumann. "Actually, such a picture belongs into every home in Nörvenich. And it also would be a nice Christmas present." In addition, a purchase of the print serves a good cause: the establishment of the Nörvenich Historical Museum. The mayor of Nörvenich, Hans Jürgen Schüller expressed his appreciation of this initiative. Information about the Circle of Friends of the museum can be obtained free of charge by contacting museum@europaeische-kultur-stiftung.org
© PROMETHEUS 103/2006
Keep informed - join our newsletter:
Copyright 2006 Museum of European Art
PROMETHEUS, Internet Bulletin for Art, News, Politics and Science.
Nr. 103, JANUARY 2006