Home
|
Prometheus Nr. 18
7
|
Alexander Order
---
Picasso portrait sold for $45 million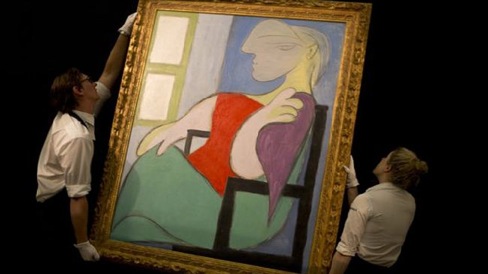 The Picasso portrait "Femme Assise Pres d'une Fenetre" was sold for $ 45 million at Sotheby's auction house in London on February 6, 2013.
Pablo Picasso was a Spanish painter, draughtsman and sculptor, best known for co-founding the Cubist movement and for the wide variety of styles embodied in his work.
A portrait devoted to the "golden muse" of this renowned Spanish artist has been sold for $ 45 million at an auction in London. The painting, named Femme Assise Pres d'une Fenetre (Woman Sitting Near a Window) after Marie-Therese Walter, was painted in 1932. It was sold at Sotheby's auction house.
The impressionist portrait of Walter sitting in a black armchair was first sold for $ 6.8 million in 1997.
Helena Newman from Sotheby's said that the portrait was a "striking" work from one of Picasso's most celebrated periods. "We are delighted that this stunning and monumental portrait, which is part of the defining series that introduced his 'golden muse' to the public eye, fetched such a strong price," Newman added.
Walter, whom Picasso called "golden muse," was the focus of several portraits by the celebrated painter such as La Reve (The Dream), also painted in 1932.
In 2010, another Picasso portrait of Walter was sold for $ 106.5 million at Christie's auction in New York. The sale was regarded as a record for the artist.
Disclaimer: The contents of this article are of sole responsibility of the author(s). The journal PROMETHEUS will not be responsible for any inaccurate or incorrect statement in this article.
www.meaus.com contains copyrighted material the use of which has not always been specifically authorized by the copyright owner. We are making such material available to our readers under the provisions of "fair use" in an effort to advance a better understanding of political, economic and social issues. The material on this site is distributed without profit to those who have expressed a prior interest in receiving it for research and educational purposes. If you wish to use copyrighted material for purposes other than "fair use" you must request permission from the copyright owner.
For media enquiries: info@meaus.com
Copyright 2013 Prometheus
PROMETHEUS, Internet Bulletin for Art, News, Politics and Science, Nr. 187, March 2013