Home
|
Prometheus Nr. 176
|
Alexander Order
---
Václav Havel is Knight of the "Alexander Order"
B. John Zavrel: Honoring an unusual personality
By John G. Bodenstein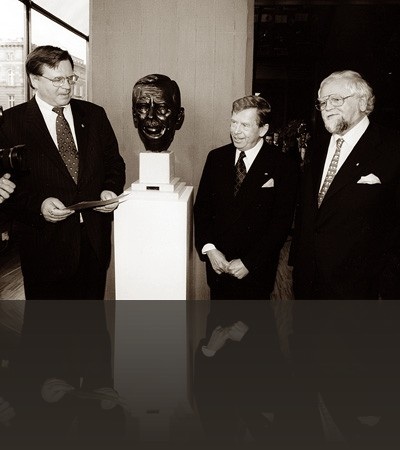 A beautiful memory: Ceremony for Vaclav Havel in Berlin with the handing over of the portrait-bust during a state visit of Vaclav Havel in the German capital. With him: AOG Chancellor Consul B. John Zavrel from the United States (left in photo) , and next to President Havel is the German sculptor Kurt Arentz.
Foto Marco-VG, Bonn
Prague/New York (bpb) Václav Havel is a knight of the international Alexander Order Pour le Merite. The Czech writer and politician has come into possession of this honorary office "in appreciating of his wide-ranging merits for the establishment and preservation of the democratic society and for reconciliation among the nations after the Second World War, announced the Chancellor of the Order, B. John Zavrel in New York.
At the same time, Havel was equally honored for his accomplishments "as a writer and his courage as the leading critic of the regime of the former Czechoslovakia during the rule of the communist party, pointed out B. J. Zavrel. He recalled that the former president of Czechoslovakia and finally of the Czech Republic was a trail-blazer of the Czech-German reconciliation. And this is very important for all people in the interest of peace and the securing of freedom.
Many Awards and Medals
Havel, as an unusual personality, received many national and international awards for literature and politics. To them belong the "Peace Award of the German Booksellers". the European "Charle Magne Award" of the city of the ancient imperial city of Aachen (Germany), as well as the US Medal of Freedom "The Presidential Medal of Freedom" and the "Light of Truth Award" (2005) as the highest medal of the United States.
In Switzerland, Havel received the Duttweiler Award for his political work. The laudation was delivered by Friedrich Dürrenmatt. The UNESCO awarded the statesman the Simon Bolivar Award. To these were added the French "Prix mondial Cino Del Duca" as well as the "Gandhi Peace Award" of the Indian government.
The sculptor Kurt Arentz has created, on a suggestion from the European Art Foundation (Germany) a portrait-bust of the Czech president. The bronze portrait was handed over to Havel during a state visit in Berlin in the Czech Embassy by the OAG Chancellor B. J. Zavrel in the presence of the artist and his wife Therese, as well as the president's wife Mrs. Dagmar Havlova.
The European meetings of the OAG at the Noervenich Castle near Cologne, Germany are as a rule accompanied by an Alexander Dinner. Gatherings of members of the Order are used as occasions for various memorials. With the announcement of the Knighthood of Havel, the Chancelry of the Order followed its general practice of announcing names of politicians only after they left their public offices.
Copyright 2012 PROMETHEUS
PROMETHEUS, Internet Bulletin for Art, News, Politics and Science, Nr. 176, March 2012