Home
|
Prometheus Nr. 166
|
Alexander Order
---
Iran's Largest Teahouse Painting Unveiled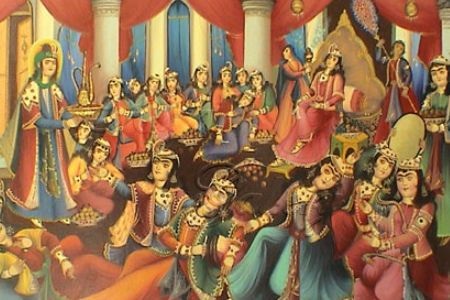 Tehran/New York (mea) After nearly 30 years, Iran unveils its largest traditional teahouse painting during a ceremony held at the Gallery 66 in the capital city of Tehran. The 32-meter artwork, which covers the walls of the gallery was unveiled after more than three decades since the project started.
Teahouse painting is a form of art which embodies some elements of miniature painting. The works painted in this style mostly depict religious and national events, according to Presstv.
"This exquisite artwork shows the potentials of teahouse painting in protecting and demonstrating the cultural and social principles of the country," Deputy Culture Minister for Artistic Affairs Mohammad-Hossein Imani-Khoshkhu said during the ceremony.
Such activities can revive traditional arts in society, he added.
Renowned Iranian teahouse painter Abbas Boloukifar was the first artist to design and start painting the artwork. He spent five years on designing it.
The project, however, came to a halt after the 1979 Islamic Revolution, until Biouk Ahmari resumed the work in 1998 completing it in 2003.
Boloukifar had suggested that the arrival of Imam Khomeini in Tehran be painted as the final scene of the artwork, but he did not live long enough to realize his dream.
The artwork, painted on canvas, depicts the descent of Gabriel, the ascent of Prophet Mohammad, early Islamic battles, Ashura and several other contemporary Islamic events.
Copyright 2011 PROMETHEUS
PROMETHEUS, Internet Bulletin for Art, News, Politics and Science, Nr. 166, May, 2011