Home
|
Prometheus Nr. 166
|
Alexander Order
---
Ice Age Graveyard Reveals Secrets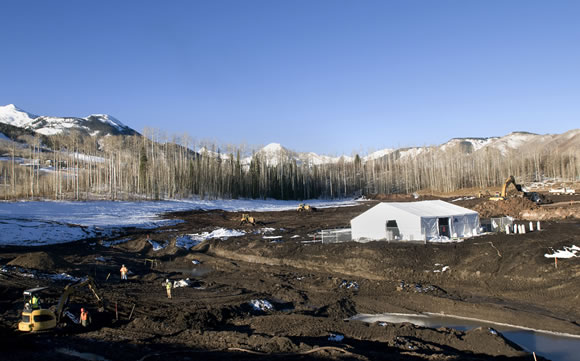 Denver Museum of Nature & Science staff and volunteers at the Ziegler Reservoir excavation site near Snowmass Village.
Copyright © Denver Museum of Nature & Science
Denver/New York (mea) An ice age graveyard, where dozens of huge animals including mammoths, mastodons and a giant ground sloth died 150,000 years ago, has been unearthed near a popular mountain ski resort. The fossilized remains, which were discovered in sediment at the bottom of a drained reservoir in the Rocky Mountains, Colorado, are thought to be one of the largest collections of animals from the last ice age to be found in one place and it is already providing scientists with new insights into the prehistoric environment, Telegraph reported.
Contractors preparing the ground for the construction of a new dam at the reservoir near Snowmass Village, which is part of the Aspen ski resort, uncovered the bones of a mammoth.
Later, more than 600 bones have also been recovered from beneath the lake bed before heavy snow halted the excavation.
Paleontologists leading the dig found the remains of four Columbian mammoths; 10 American mastodons, a distant relation of the mammoth and elephant; four ice age bison, which were twice the size of modern bison; a species of ice age deer; and a Jefferson's ground sloth and a tiger salamander.
They expect to find more fossils when the snow melts in spring.
Researchers, including experts at the Royal Holloway University of London, are now attempting to piece together how the animals came to be buried in one place and what the ice age landscape would have looked like at the time.
"It is an amazing site and is very unusual," said Dr Kirk Johnson, chief curator and vice president of research and collections at the Denver Museum of Nature and Science who led the excavation.
"It is a true treasure trove of ice age fossils. Many of the fossils are pristine as they have been very well preserved. Some of the bones we recovered are still white while we are finding leaves that are still green and tree branches with the bark still on."
The first mammoth was discovered at the end of October when a bulldozer struck some of the ice age mammals' bones during work to expand the Ziegler Reservoir, which sits on a plateau at 8,870 feet in the Colorado Rocky Mountains.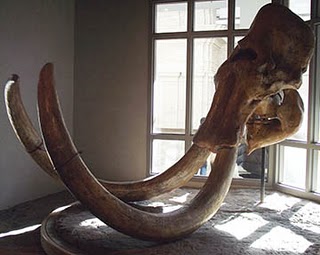 Around one and a half million years ago, mammoths crossed into North America from Asia. In more recent times, a bulldozer operator uncovered the skeleton of a young Columbian mammoth. The operator was working on a project for the Snowmass Water and Sanitation District when he discovered the skeleton on October 14, 2010. After the operator retrieved a quarter of the skeleton, the bones were cleaned and displayed at the District's office in Snowmass Village near Aspen, Colorado.
Copyright 2011 PROMETHEUS
PROMETHEUS, Internet Bulletin for Art, News, Politics and Science, Nr. 166, May, 2011