---
Alexander Sculpture Garden in May 2007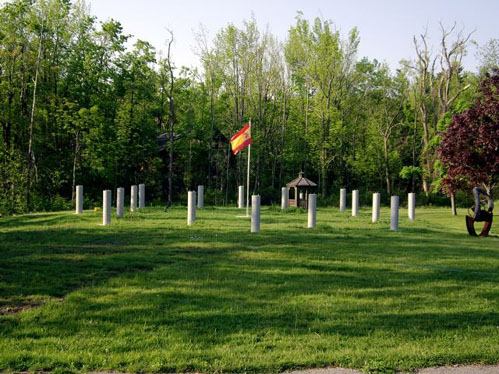 Last year, much ground-work has been accomplished in the sculpture garden: 16 concrete foundations & pedestals for sculptures and busts have been constructed in the form of a double circle. More top soil was brought in to level the land in the circle, and re-seeded with grass.
The Spanish flag, in the center of the circle of 16 pedestals reminds of the current exhibition of graphic work of the great Catalan painter Salvador Dalí. A larger-than-life portrait of Dalí will be one of the special artworks in the Alexander Sculpture Garden in Clarence, New York.
Dear friends of Art,
there is a VERY IMPORTANT new development regarding our ALEXANDER SCULPTURE GARDEN:
We have a CHANCE TO PURCHASE THIS VERY ATTRACTIVE wrought iron gate for our MAIN ENTRANCE into the Alexander Sculpture Garden.
It just became available YESTERDAY from the seller, who is moving to another location and has a big sale at this time. So, we would be able to buy it at a very favorable price.
The gate itself is 12 feet wide and 11 feet high at the center (7 feet high at the lowest point).
It is hand-made, good quality and we feel it would look just perfect as an impressive entrance into our Sculpture Garden, which is now under construction.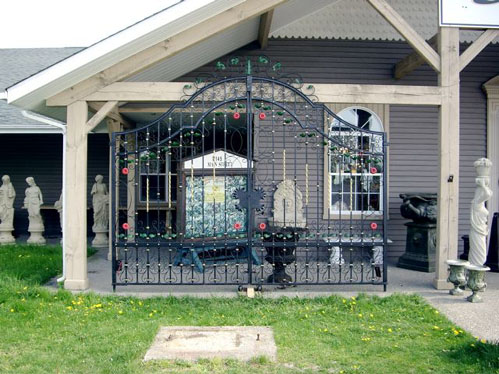 The wrought iron gate which we would like to purchase as the MAIN ENTRANCE into the Alexander Sculpture Garden, scheduled for opening in summer of 2009.
Unfortunately, as you all know by now, our Museum does not get any money from the US government.
We do not have any big corporate donors like other famous museums.
All we do is BY OUR OWN POWER, and with the support of some of our friends.
The total cost will be about $ 6,000, including installation and foundatiions for the future 2 columns and a short wall).
In this case, we URGENTLY NEED TO RAISE $ 4,000 minimum in the next 3 weeks.
IF you are interested to support this IMPORTANT NEW STEP in the development of the ALEXANDER GARDEN, you can send your tax-deductible donation to:
Museum of European Art, 10545 Main Street, Clarence, New York 14031.
Your support--IN ANY AMOUNTS, large or small--would be greatly appreciated!!
With the best wishes to ALL OUR FRIENDS,
John Zavrel, Director
Museum of European Art
© PROMETHEUS 119/2007
PROMETHEUS, Internet Bulletin - News, Politics, Art and Science. Nr. 119, May 2007