---
Biography and Crimes of Salomon Morel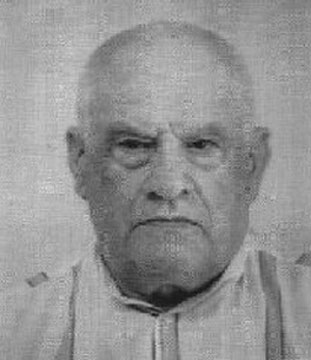 Passport photo 1993 of wanted war criminal Salomon Morel. It came from the Polish Institute of National Remembrance, to be used as an illustration in this biographical article.
© Photograph pinr.
Warschau/Poland: Salomon (also Solomon or Shlomo) Morel (born on November 15, 1919 in Garbow, Poland, died February 2007 in Tel Aviv, Israel. He was a Polish Jew, who (between February and November 1945) was a member of Communist Sate Security, known in Poland as Urzad Bezpieczenstwa. He became the commandant of the Stalinist era Concentration camp "ZGODA" in Swietochlowice, Poland.
Officially, the people held in the communist concentration camp were political prisoners and German nationals. Most of them were German and Poles civilians, including women and children. It is reported: up to 1,695 people (out of 6,000 who had passed through the Polish concentration camp during this period) died there. The circumstances under which they died were never properly investigated. Morel has been accused of causing these deaths by deliberately starving, systematically torturing and mistreating prisoners, and by failing to maintain sanitary conditions.
Salomon Morel fled in 1992 to Israel after these accusations began to be publicized in the Polish media. He refused to return to Poland, where he was accused of war crimes and crimes against humanity. Israel rejected several half-hearted Polish requests for extradition. The last request is dated in July 2005.
© PROMETHEUS 118/2007
PROMETHEUS, Internet Bulletin - News, Politics, Art and Science. Nr. 118, April 2007