---
Elvis Presley remains a Book of Seven Seals
Presley as a Photographer: The singer insisted on make-up for his friend Joe
By B. John Zavrel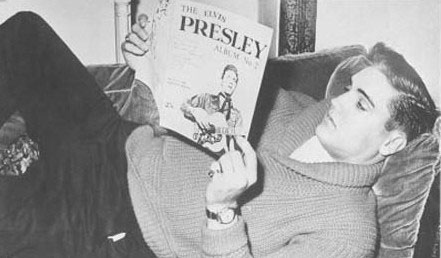 Elvis Presley liked very much to read good reports about himself. He really enjoyed the artful photographs, taken by others of him. Photographers of his time saw in Elvis not only the great artist, but also a rebirth of the mythological Narcissus, a person who is in love with himself.
© Photograph EP-Archive
New York / Berlin (bpb) Elvis Presley remains for many of us a "Book of Seven Seals". Countless facts, legends and gossips are known about this giant of Music. But for instance, still uncertain is his true part in the political relations to the US President Richard Nixon, his role in the anti-drug-campaign, his real family life after marriage, and his sexual orientation in general. He was supposed to be a womanizer, a narcissist, a shy boy and often a lonesome guy. Maybe one more reason more, that millions could associate with him.
New documents that have been found are a kind of a sensation: they tell that Presley enjoyed to be a photographer. Many years after his death, private photos were found in the estate and in the unpublished works of Presley's German boyfriend Joe.
The photographs bring us back to the "happy time in Germany", when Presley was serving in the US Army in 1958. In the unpublished manuscript (Summertime with Elvis) by Joe we can read: "From the very beginning Elvis was interested to make photos of me. One of his conditions was for me to use make-up, and style my hair as he does it". In his written diary, Joe noted: "I do not like any make-up on a man, nor styling of hair like a movie star. I prefer the absolutely natural way of life. At the same time, I respect that Elvis is using in privacy slight make-up for himself, whenever we meet". Days later, Joe wrote: "This charming devil is determined to style me for the photographs, and doing make-up for me according to his intension. I do not know what do to, but slowly I become willing to fulfil his request and accept his conditions."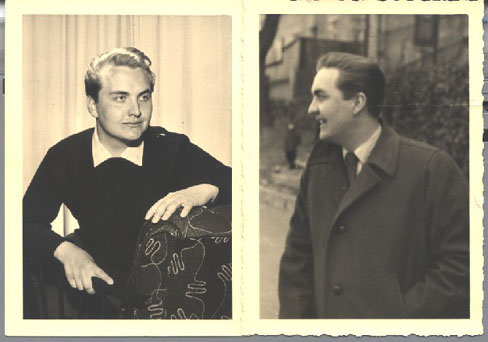 Elvis Presley as photographer: these two snapshots show the boyfriend Joe in Germany. On the left, styling und make-up by Elvis. On the right: the natural look for everyday.
© Photograph EP-Archive, EKS
Whatever else may have happened in this month of autumn 1958 in Germany. The result we can see on two photographs from the secret photo album: Elvis has persuaded his friend to be willing for this session. Elvis worked out the contrast between "after" and "before". In the first of the two photographs, he shows his model stylish with eyelashes, styled hair and posing like a movie-star. And the contrast in the other photo: Joe, natural in his daily clothers and with a shorter haircut. Anyhow! These unique snapshots by Elvis Presley will be enjoyed by all his admirers and the lovers of his great talent and music.
By the way: the great surrealistic painter Salvador Dalí had created back in 1937 the famous painting "Metamorphosis of Narcissus". It is an amazingly intricate surrealistic interpretation of the Ancient Greek legend of Narcissus, and his reflection: how beautiful am I?
Indeed: Narcissism still plays an important part in the society of the 21st century, both among men and women. If Elvis Presley was a narcissist, we can say: he found himself in good company of many famous people throughout the centuries.
© PROMETHEUS 116/2007
PROMETHEUS, Internet Bulletin - News, Politics, Art and Science. Nr. 116, February 2007