---
Arno Breker exhibition has 35,500 visitors
Record attendance in the city of Schwerin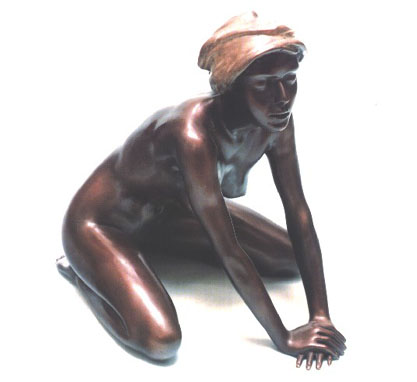 The beauty of sculpture enchanted the international visitors of the exhibition "Arno Breker in Schwerin". The photo shows the limited-edition bronze "Girl with Scarf", one of the most beautiful small sculptures by Arno Breker. It is shown in the exhibition catalog "Arno Breker: Beauty Above Everything", which is available from the Breker Museum at the Noervenich Castle near Cologne, Germany. (museum@europaeische-kultur-stiftung.org)
© Foto Katalog/Marco-VG
Schwerin (bpb) The 2006 Arno Breker exhibition in Schwerin has had 35,500 visitors during the three and a half months. This record attendance was made known by the cultural officer for the city of Schwerin, Hermann Junghans. As planned, the exhibition ended on October 22, 2006, after three months.
In spite of the usual polemics and attacks against this presentation of the works of the most significant sculptor of the Classical Tradition in the 20th century, the organizers of the exhibition remained steadfast in their committment.
The old and worn out reproach against Breker (1900-1991), that by his cooperation with the architect Albert Speer on the renovation of the German capital Berlin he may have also served Adolf Hitler, could not keep away the thousands of visitors and art lovers from all the countries of Europe and the United States. Many have travelled hundreds and thousands of miles in order to be able to see Breker's works on public exhibition.
The plans and preparations for the exhibition were made already back in 2004 by the former director of the Schleswig Holstein Haus, Mr. Rudolf Conrades with Breker's publisher Joe F. Bodenstein and the curator Marco Bodenstein. The 70 scultures on display cover all the various creative periods of the artist, and came on loan from the Breker's estate, the Arno Breker Museum (www.museum-arno-breker.org ) and private collections.
All sculptures that were shown in Schwerin can be seen in the museum catalog "Arno Breker: A LIFE FOR THE BEAUTIFUL". It contains over 500 photographs, as well as a detailed biography in English, French and German. Price is $ 75 and can be ordered from zavrel@meaus.com
BOOKS IN ENGLISH
1) Arno Breker: A LIFE FOR THE BEAUTIFUL. Text in 3 languages: English, German and French) Pictorial volume with detailed biography and more than 500 photos, 353 pages, hard cover... $ 75
2) Arno Breker: HIS ART AND LIFE, by B. J. Zavrel, New York 1983 ... $ 20
3) Arno Breker: DIVINE BEAUTY IN ART, interview by B. J. Zavrel .......$ 15
4) THE COLLECTED WRITINGS, Fotos und reich illustriert .. $ 20
5) Arno Breker: BEAUTY ABOVE EVERYTHING, catalog .... $ 25
6) SALUTE AMERICA; Portfolio on the occasion of the 300th Anniversary of German immigration to USA. With texts by Ronald Reagan, George Bush, Karl Carstens, Helmut Kohl, and others.......$ 550
The above books can be ordered from zavrel@meaus.com
Many other books IN GERMAN by and about Breker can be ordered from Marco-Edition in Bonn, Germany, fax (49) 228--69 79 33, telephone (49) 228--65 12 08, e-mail Marco-VG@gmx.de
© PROMETHEUS 114/2006
PROMETHEUS, Internet Bulletin - News, Politics, Art and Science. Nr. 114, December 2006