---
Air Force reception at the Nörvenich Castle
Officers from the USA, France, Italy and Eastern Europe take part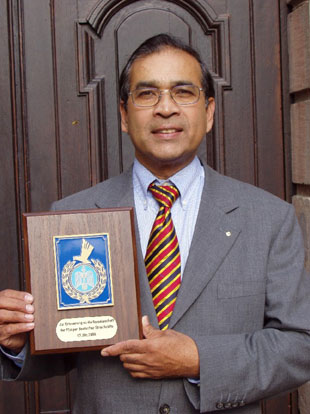 A memorial plaque to remember the Reception of the German Airforce has been presented to the Director John G. Bodenstein. It now belongs to the historical collection of gifts which were presented by many prominent visitors to the Nörvenich Castle.
© Foto EKS / Marco-VG
Nörvenich (bpb) The society of the German Air Forces have met in October, with some 250 members and guests for the Annual Reception 2006 at the Nörvenich Castle near Cologne, Germany. Air Force officers from the USA, France, Italy and Eastern Europe participated in the event. To the guests of honor belonged Colonel Michael Kuhn, the commander of the anti-bomber squadron 31 "Boelcke"in Nörvenich.
To remember the meeting, the leaders of the Society handed over a commemorative plaque to the Lord of the Castle, Director John G. Bodenstein. He recalled the traditionally good relations of his family with the German Army. To this belonged among others also friendly relations with the German Minister of Defence and NATO Secretay General Manfred Woerner, who was a frequent guest at the Nörvenich Castle.
"We would really welcome, if the German Army could in the future arrange some kind of musical concerts in this historical building, which also citizens of the town could attend", said Bodenstein. In the past, similar events had been looked upon very positively. He stressed that "the Nörvenich Castle is the only privately financed aristocratic seat in the state of Nordrhein-Westfallen, which is dedicated to public cultural work".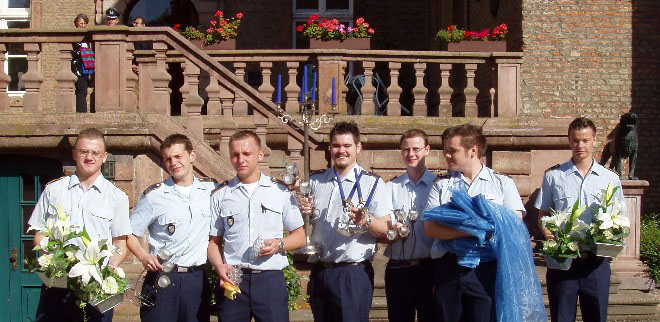 In the German Air Force, everybody counts. Not only the officers and fliers are important, but also the support personnel on the ground. The photo shows the members of the squadron team, who had to stay on duty during the Annual Reception.
© Marco-VG, Bonn
Director Bodenstein stressed that the members of the German Army are always welcome at the Nörvenich Castle. "The German Army is an important part of our democratic society. Those who serve, deserve the appreciation and respect of the whole society."
The international guests have also taken the time to thoroughly see the present art exhibition of the painter Birgit Sewekow as well as the sculpture park and other artworks by contemporary artists: Kurt Arentz, Siegfried Lunau, Detlef Krebs, Ernst Fuchs, Helga Tiemann, Paul Seimetz, Rudolf Liefke, K. Donst, Yrsa von Leistner, Peter Hohberger, Marco, Dasha Stransky and Jan Künster. (E-Mail: info@europaeische-kultur-stiftung.org (18.10.06)
© PROMETHEUS 113/2006
PROMETHEUS, Internet Bulletin - News, Politics, Art and Science. Nr. 113, November 2006