---
New Russian President: Dmitry Medvedev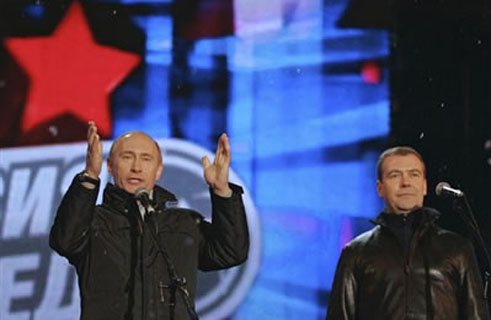 President Putin (left) poses on the Red Square in Moscow with his successor, Dmitry Medvedev.
Moscow (meaus) As expected, Vladimir Putin's heir apparent, Dmitry Medved has won an overwhelming victory in the presidential elections on Sunday, March 2, 2008. He received more than 70% of the total votes cast.
Gennady Zyuganov, the leader of the Communist Party of the Russian Federation follows Medvedev far behind with 17.77 percent of votes. Vladimir Zhirinovsky, the leader of the Liberal and Democratic Party of Russia (LDPR) comes third with 9.37 percent. Andrei Bogdanov, the leader of the Democratic Party of Russia, closes the list with only 1.29 percent.
The government of the Russian Federation will resign on the inauguration day of the new president.
On Monday night Dmitry Medvedev held a press conference in his election headquarters. Answering a question from a BBC correspondent pertaining to the strategy and the course of Russia's foreign policy, Medvedev said:
"It is the president who determines the foreign policy of Russia, as the Constitution stipulates. The Kremlin is the office of the Russian president, the place of his permanent location. The White House is the office of the government and the place of the permanent location for its chairman, the prime minister," he said.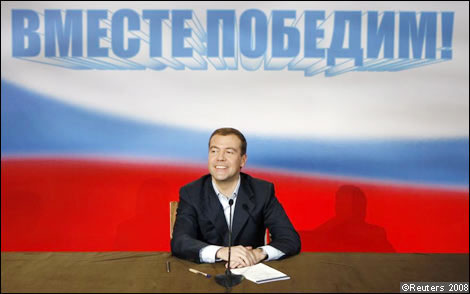 The new president of Russia: Dmitry Medvedev
"I believe that we must conduct independent foreign policies similar to what we have been doing during the recent eight years. The major goal of Russia's foreign policy is to defend Russian interests within the scope of existing international legal norms," Medvedev said.
Medvedev said that he was expecting to run efficient work with Vladimir Putin as the prime minister.
The main outstanding question was who would be calling Russia's shots once Medvedev takes over and, as is widely expected, names Putin prime minister. The outside world will watch closely how the new leadership in Russia, with its immense oil and gas reserves, engages with global rivals and partners at a time of rising commodities prices.
Most Russians expect the mild-mannered Medvedev to follow Putin's lead, at least at first.
In his rhetoric, Medvedev has presented himself as a pro-business liberal and more Western-leaning face to the rest of the world. But he has also helped implement Putin's drive to give the Kremlin a near monopoly on political power and energy resources.
© PROMETHEUS 129/2008
PROMETHEUS, Internet Bulletin - News, Politics, Art and Science. Nr. 129, March 2008