---
Museum of European Art
10545 Main Street, Clarence, New York 14031

Tel. 716.759.6078 e-mail: zavrel@meaus.com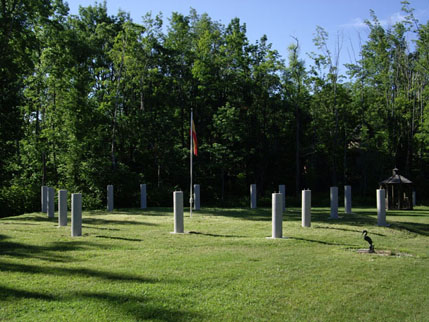 Early morning in the Sculpture Garden in summer of 2007. Sixteen pedestals are awaiting bronze and marble portraits and sculptures by European artists. Portraits of Salvador Dalí and his wife Gala will be among the first portraits to be installed, along with the busts of the pacemaker inventor and Grandmaster of the Alexander Order, Dr. Wilson Greatbatch.
Dear friends,
Next year, the town of Clarence will celebrate its 200th Anniversary.
The Museum of European Art will contribute to this historical occasion by the Dedication & Unveiling of its SCULPTURE GARDEN on Sunday, September 7, 2008.
The ceremony will take place in the presence of a delegation of some of our special artist-friends and long-time supporters from Europe.
Over the past 3 years, we have spent approximately $ 60,000 for the establishment and development of the Sculpture Garden. Still, much work needs to be done before opening: 600 feet of fencing, additional pedestals for sculptures, and the acquistion & transportation costs of additional sculptures from Europe and eight display walls for reliefs.
Since the Museum does not receive any financial support from the government, all we manage to accomplish is done by the idealistic support of friends, acquaintances and people who appreciate fine art. More of this kind of help is now urgently needed, so that we can open the Sculpture Garden already in 2008.
We would like to invite you to become a part of this unique project and consider making a generous donation toward the completion of the Sculpture Garden. The names of the donors will be engraved on plates, and attached to several of our Display Walls with fine bronze, marble or terra-cotta reliefs.
The suggested donations are $ 300 per individual, or $ 500 per couple.
Business and institutional sponsorships are also available.
All donors will promptly receive a receipt for their tax-deductible donations, as well as a VIP ticket to the Dedication & Unveiling ceremony on September 7, 2008.
The checks should be mailed to:
Museum of European Art, 10545 Main Street, Clarence, NY 14031
Sincerely,
B. John Zavrel
Founder & Director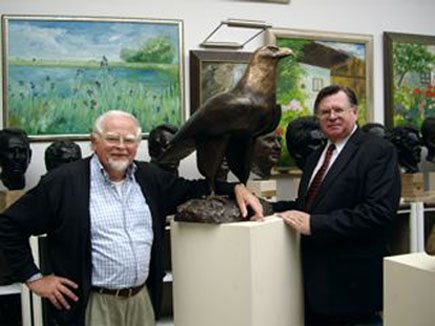 The prominent European sculptor Kurt Arentz (left) with the bronze eagle PEACE and Consul B. John Zavrel. The sculpture is one of the special artworks to be installed at the Alexander Sculpture Garden in Clarence, New York on September 7, 2008.
© PROMETHEUS 127/2008
PROMETHEUS, Internet Bulletin - News, Politics, Art and Science. Nr. 127, January 2008