---
Putin accuses west and opponents of plot
By Neil Buckley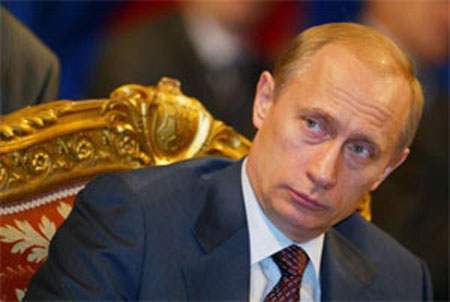 Russia's popular President Putin will continue to be involved in the country's political life in the coming years of world-wide turmoil, economic and financial breakdown in the USA., and the US-instigated wars on Iraq and Iran to capture world's oil and other natural resources.
Moscow/Russia. President Vladimir Putin has launched a searing attack on the west and Russia's marginalised political opposition, accusing them of plotting together to weaken the country and return it to the chaos and thievery of the 1990s.
On Wednesday, at a Moscow rally of 5,000 supporters that was a centrepiece of Russia's parliamentary election campaign, the president used the blunt and colloquial language that has become his trademark. He warned Russia that enemies were intent on snuffing out its economic revival and provoking an ill-intentioned "Orange" revolution.
The rally heard Mikhail Kalashnikov, inventor of the eponymous assault rifle, and Fyodor Bondarchuk, a film director, call for continuation of Russia's political course. In his concluding address, the president then warned of dire consequences if the pro-Kremlin United Russia party--whose ticket Mr. Putin is heading--did not triumph in the polls on December 2, 2007.
"Those who oppose us don't want our plans to be completed. They have completely different tasks and different views of Russia. They need a weak, sick state, a disorientated, divided society, so that behind its back they can get up to their dirty deeds and profit at your and my expense," he said.
"Unfortunately there are people inside the country who sponge off foreign embassies ... who count on the support of foreign resources and governments and not of their own people."
Russia's state-controlled Channel One devoted almost its entire early evening news to the often nationalistic speech, which ended with a call to vote for United Russia. Political analysts suggested the address was designed largely for domestic consumption. But it highlighted the administration's twin election themes of the dangers of a return to the "oligarchy" of the 1990s that saw Russia dominated by a handful of billionaires and of foreign states meddling in national affairs.
The rally was organised by United Russia and the newly launched "For Putin" movement, formed last week by various regional groups that had held rallies calling for a third presidential term for Mr Putin or continuation of his policies. The mainly young audience, some with faces daubed with the Russian tricolour, chanted slogans such as "No Russia without Putin".
The president's decision to head United Russia's candidate list--though he is not expected to take up a parliamentary seat--has transformed the election into a referendum on his popularity.
A crushing victory for the pro-Kremlin party is widely expected to become a platform for Mr Putin's appointment to a new political post or to proclaim him "national leader" when he stands down as president next year.
Mr Putin's warnings of foreign-backed figures attempting to roll back Russia's progress appeared aimed at the "Other Russia" coalition of former chess champion Garry Kasparov, and at Mikhail Kasyanov, the former prime minister turned opposition leader.But he referred scathingly to 1990s reformers who laid the foundations of today's market economy but are also blamed for creating the oligarchic system.
"All these gentlemen are now trying to teach us how to live," Mr Putin said. "That's those who in the 1990s, while occupying the highest posts, acted to the detriment of society and the state, served the interests of oligarchic structures and squandered the national property.
"It's they who made corruption the main form of political and economic competition ... who, year after year, adopted unbalanced, irresponsible budgets, leading to default, collapse and the manifold fall in living standards."
Copyright The Financial Times Limited 2007
PROMETHEUS, Internet Bulletin - News, Politics, Art and Science. Nr. 126, December 2007