---
Brazil's John of God cures thousands of incurable diseases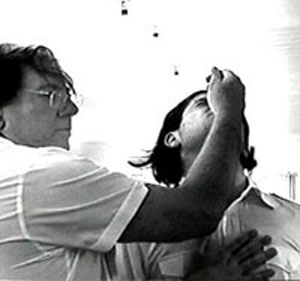 The Brasilian healer John of God: thousands of people cured over the years.
Abadiania, Brasil. About 300 people come to a small town of Abadiania (103 kilometers off Brazil's capital) on a daily basis. The people do not come for the beauty of Brazil and Abadiania--sightseeing is the last thing they are interested in doing there. They arrive in Abadiania with a hope to recover from their diseases with the help of a local healer, known as John of God.
First buses reach the town at 5 a.m. Thereafter pilgrims start waiting for admission to a small hospital Inacio de Liola House. The location of the hospital is not incidental: there is a layer of quartz underneath Abadiania--the mineral known for its energy qualities. There is also a waterfall in the town where patients usually meditate.
The premises of the hospital include a big hall, a garden, a café, a library and a kitchen where you can get a free portion of soup after a working day. Only those volunteers who already recovered from their illnesses with healer's help work in the hospital. First of all, the medium explains the method to the newcomers, and only then the process of healing begins. It consists of several stages.
Firstly, medium assistants show people to four big rooms. They conduct a preliminary examination of patients and "establish a contact with God" for them. Afterwards, the medium appears and talks to people to decide whether he can help them or not. Those chosen by him stay in the town for about two weeks and live in a local hotel. John prescribes them meditation near the above-mentioned waterfall, prayers and herbal treatment.
An operation is the final stage of the treatment. It can be performed with a usual kitchen knife at times. More often the healer simply touches body of a patient with his hands to relieve him or her of their pain.
John of God has operated about 15,000 patients during 40 years. The healer does not take money for his services. People just make a small payment for herbal potions. The healer says that he receives his gift from spirits that possess his body. He cures quite different illnesses: diabetes, blindness, disseminated sclerosis, all kinds of cancer, asthma, cerebral palsy, epilepsy, AIDS and different mental diseases. In addition, people with problems in private life and business also ask for healer's help.
John of God is not widely known in Russia; only several psychics of high rank know him. Nevertheless, quite a number of Russian citizens have visited the Brazilian medium. Many of them say that they feel much better after the course of treatment. The medium is extremely popular in Brazil and the USA. He is the only psychic in the country who was tested at Sao Paulo's University on the subject of job capacity. The research conducted on 30 patients showed that operations were performed indeed with the removal of operational material, although no infectious complications were observed.
However, not all operations are successful. A French woman filed a complaint against the Brazilian healer in 2005. The woman came to Brazil to get cured of AIDS. The virus was still found in her blood after John of God's session. But the healer does not seem to be worried about that. "Don't stop to take medications. My treatment doesn't substitute medicines. It's not me who cures but God", said John.
Translated by Ksenia Sedyakina
© 1999-2006. «PRAVDA.Ru».
PROMETHEUS, Internet Bulletin - News, Politics, Art and Science. Nr. 126, December 2007