---
Edwards accuses Clinton of duplicity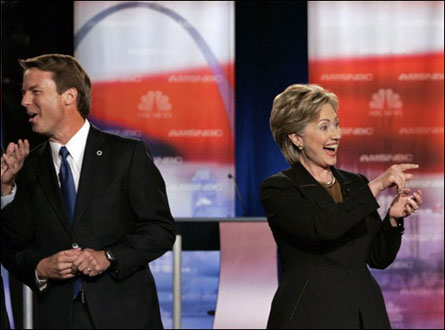 John Edwards and Hillary Clinton (wife of the former President Bill Clinton) during a recent debate of Democratic politicians for the November 2008 presidential elections.
John Edwards, one of Hillary Clinton's top rivals for the Democratic presidential nomination, charged her of duplicity and of facilitating a White House drive to war against Iran. Former vice presidential nominee Edwards further sharpened his rhetoric against the former first lady, as the Democratic race heated up two months before the first party nominating contests.
He hammered Clinton for voting for a Senate resolution in September which called for the designation of Iran's Revolutionary Guard Corps as a terrorist organization. "Senator Clinton is voting like a hawk in Washington, while talking like a dove in Iowa and New Hampshire," Edwards said, referring to two crucial early-voting states. "She's giving the administration exactly what it wants again."
Edwards also warned in a speech in Iowa City, that the Bush administration was trying to use attacks on US forces in Iraq, to justify a war with Iran.
"George Bush, Dick Cheney and the neocon warmongers used 9/11 to start a war with Iraq, now they're trying to use Iraq to start a war with Iran," he said.
Later, in the small town of Oskaloosa, Edwards, who launched a fierce attack on Clinton a week ago in a campaign debate, argued that the Bush administration saw the Senate vote as a possible justification for a military strike on Iran. "We have heard this dance before, it's all scarily familiar," he said in a conversation with Democratic supporters at a coffee shop.
© PROMETHEUS 125/2007
PROMETHEUS, Internet Bulletin - News, Politics, Art and Science. Nr. 125, November 2007