---
Poster Exhibit At Palestine Museum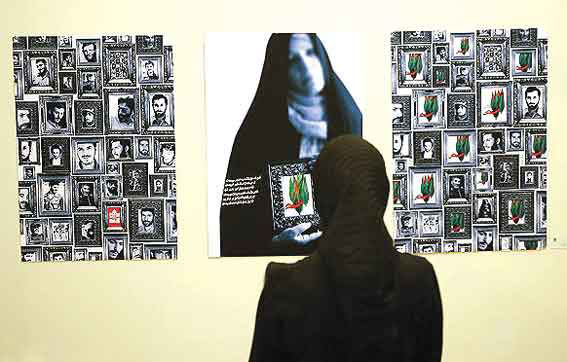 A visitor at the exhibition of POSTER ART at the Palestinian Museum in Tehran. The expulsion of Palestinians from their ancestral lands in 1947 has been among the 'root causes' of the so-called 'Islamic terrorism'. Unfortunately--for the three generations of Palestinians who have lived the last 60 years in refugee camps--the United States and Great Britain (that caused their suffering in the first place) have done nothing to resolve the situation. For the US and British politicians of the past 60 years, the concept of a "root cause" is a tabu. For this reason, there is no solution and no peace in the Middle East for generations to come.
Tehran/New York (meaus) An exhibition of posters on the subject of resistance by the Palestinian people against the continued occupation of their country opened at Tehran's Palestine Museum. It depicts the concept of struggle as viewed by the various artists participating in the event.
The exhibition features 80 posters by 79 graphic and poster artists. The show aims to introduce the talents in this field, to promote 'resistance art' in graphics and provide an arena for presenting this form of art to the public.
Efforts were made by the organizers to provide an opportunity not only for renowned graphic and poster masters, but also for young artists to create works on the subject of resistance.
The best posters will be published as a reference on aesthetics and the concept of resistance. Selected articles from the research section of the exhibition will also be published after the exhibition.
© PROMETHEUS 124/2007
PROMETHEUS, Internet Bulletin - News, Politics, Art and Science. Nr. 124, October 2007