---
A Castle for the Alexander Order
Repräsentative rooms for events and conferences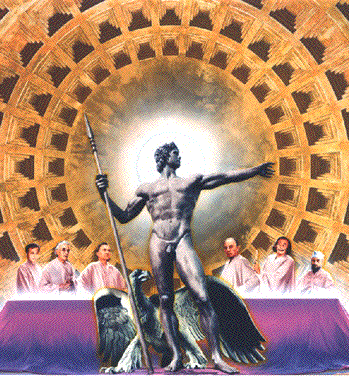 "Le Festin d'Alexandre le Grand". Painting by Pierre Peyrolle in the residence of the Order at the Noervenich Castle, Germany. On the left can be seen the Grandmaster Roger Peyrefitte. To the right of the Alexander sculpture are immortalized the knights and friends of the Round Table: Arno Breker, Salvador Dali and Ernst Fuchs.
© Foto Marco-VG.
Paris/Berlin/New York (bpb) The international Alexander Order Pour le Mérite for science and arts (OAG) has a new European residence: the Nörvenich Castle in Germany. The Chancellor of the Order, Consul B. John Zavrel has signed a document to finalize the arrangements with the management of the Castle for future cooperation.
This effectively means that the administrative center of the Order has been transferred from the residence of the former Grandmaster fo the Order Roger Peyrefitte in Paris at Bois de Boulogne to Germany. Since the death of the author Roger Peyrefitte, the US scientist and researcher Prof. Dr. Wilson Greatbatch (inventor of the implantable pacemaker) has held the post of the Grandmaster.
The Chancellor of the Order, John Zavrel explained: "This castle with its halls of knights offers the Alexander Order representative possibilities for gatherings of the Knights, conferences and events." The Castle also contains a Museum of European Art, which is open to the public. Among others, in the castle's art collection is the painting "Le Festin Alexandre le Grand". It was created by the French painter Pierre Peyrolle as a homage to Alexander, the Order and the artists of the Golden Triangle: Salvador Dalí, Arno Breker and Ernst Fuchs.
The Alexander Order has a Circle of Friends, which anyone can join at the age of 16 or older. Those interested to join the Circle of Friiends can request free information from info@meaus.com or from info@europaeische-kultur-stiftung.org (in Europe).
© PROMETHEUS 124/2007
PROMETHEUS, Internet Bulletin - News, Politics, Art and Science. Nr. 124, October 2007