---
Salute to Dagestan by Lajos Tar
Honor for the Caucasus Republic and Binyamin Shalumov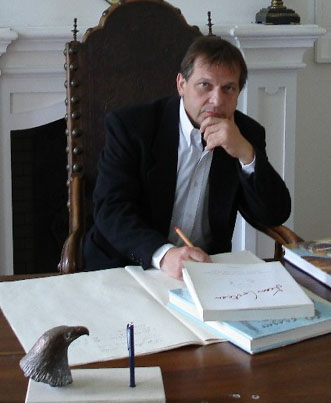 LajosTar at work on one of his compositions. He has written a number of guitar compositions, such as "Hommage a Salvador Dalí". Some of his other works were written in honor of international artists. A selection of his works will be published this year on a CD.
© Foto Patrick Bodenstein/Marco-VG
Berlin/Makhachkala (bpb) "Salute to Dagestan" is the title of the latest composition of Lajos Tar. The Hungarian composer has written a piece for the guitar honoring the Jewish painter Binyamin Shalumov, who was born in the Dagestan Republic in the Caucasus. At the world premiere in Germany in July, 2007 in the presence of the Russian painter, the guests appreciated the work with a long, enthusiastic applause.
The event in honor of Shalumov was attended by 350 guests from politics, diplomatic corps, business, art and society. The accoustics in the Hall of Knights carried well the performance of the guitarist and composer. The curator Thomas Blumann from the European Art Foundation Berlin praised the achievement of Tar. "You are in good company with your gesture of dedicating a musical piece to a fellow artist", noted Blumann. "The foundation congratulates you on your brilliant abilities. And at the same time, we thank you for your exemplary engagement to place culture in the service of a better understanding among the people of different nations."
Dagestan remind me of the beautiful Bavaria
The composer explained that the series of melodies connects the Western and Eastern cultures. Dagestan, which is also known as the Land of Mountains, often reminds one due to its geographical location of the landscapes in the beautiful German land of Bavaria. "That is an additional thing which connects us with this distant land of the Russian Federation." It is his wish, one day to take a study-trip to Dagestan, in order to become acquainted with the folk music of its Muslim, Christian and Jewish populations.
A copy of the original composition will be sent to the President of Dagestan, Mukhu Aliyev. He was the patron of the exhibition "From Dagestan around the world" in the Museum of European Art at the Nörvenich Castle near Cologne ( www.europaeische-kultur-stiftung.org ) . The curator Blumann expressed his expectation that Dagestan will strengthen its cooperation with the European Art Foundation. At the same time he expressed his appreciation of the support of the presidential advisor Gamzat Gamzatov in the Dagestan capital of Mahkachkala for the promotion of this dialog.
Lajos Tar lives in Germany and in Hungary. Among others, he is the director of the music school MUSICA HUMANA at the Nörvenich Castle. uf Schloss Nörvenich. Both children and adults are able to get there professional, individual instruction in music.
© PROMETHEUS 123/2007
PROMETHEUS, Internet Bulletin - News, Politics, Art and Science. Nr. 123, September 2007